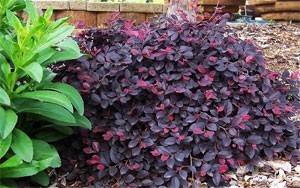 If you live and garden in a region where the average low temperature doesn't go below 0 to 5 degrees Fahrenheit during winter, and you're looking for low-maintenance, super-hardy, pest and disease resistant flowering shrubs to color up your landscape, it does't get much better than the Loropetalums. Loropetalum (Loropetalum chinense), also known as Chinese fringe-flower or Chinese witch hazel, is a member of the Witchhazel family (Hamamelidaceae). The genus name, Loropetalum, is derived from the Greek words for strap and petal, and refers to the long, thin petals of its fringe-like flowers. While native to China, Japan and the Himalayas, loropetalum is well-adapted to areas of the United States in USDA Plant Hardiness Zones 7 through 9.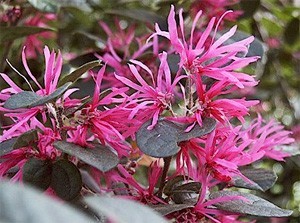 The first loropetalum, which had green leaves and white flowers, was introduced in the U.S. in the 1880's. But it wasn't until a century later, in the late 1980's, when the first burgundy-leafed pink-flowered species was introduced, that Loropetalums started to become more well-known and sought after by gardeners.
The first time I saw a burgundy-leafed loropetalum was about 20 years or so ago when my brother and I were on one of our plant explorations visiting a small ornamental plant grower in southern Alabama. Until then, I was only aware of the green-leafed variety, but then the grower took us back to this small plot where he was growing Loropetalum 'Burgundy,' a cultivar that grew to over 10 feet in height. I'll never forget the excitement I felt when first laying eyes on this plant. I kind of pride myself in picking winners and knew for sure that this burgundy-leafed loropetalum was going to be a huge hit with gardeners.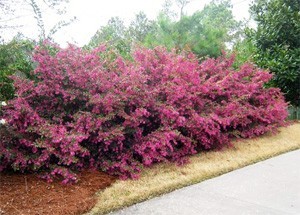 Well, that was then and this is now. It's been over 20 years since laying eyes on that first burgundy-leafed loropetalum and, now that we're in the 21st century, and I never would have thought there would be so many cultivars/ varieties on the market today. Plant breeders and developers have come a long way since the late 80's, introducing new and improved varieties almost every year. We've gone from having only the taller growing burgundy-leafed varieties to now having both taller varieties and more compact shrubs, such as 'Purple Diamond' and 'Purple Pixie' (a groundcover) that sport and hold much more intense foliage color in shades of burgundy, deep purple, red and green. Flower colors are still pink or white with the exception of Loropetalum 'Ever Red Sunset,' the first cultivar to sport true red flowers!
I list my favorite varieties of Loropetalum on the next page