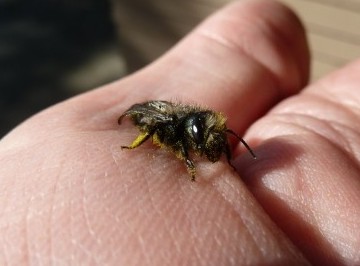 Most gardeners can name all five "bees" of the world:
Honey bees, Bumble bees, all Hornets, all Wasps and, lastly, everything else.
In North America, "everything else" is close to 4,000 species of bees, hornets, and wasps!
There are multitudes of bee species that don't sting, and if encouraged, can nest in your yard. One of the easiest bees to start with is the spring mason bee. Both the gentle blue orchard and hornfaced mason bees are easily bought or found in the wild.
First, why do we say that the mason bee is gentle?

Some bees live in hives (honey bees and bumble bees for example) and others live by themselves as a solitary bee.
A solitary bee does all of the work by herself. She gathers the pollen, lays her eggs, seals the egg/pollen chamber, and continues to do this until she's dead. She has no time to defend a nest. If she were to do this, she couldn't do anything else. As a result, they only sting if they're about to be squashed... and the venom is similar to a mosquito bite.
It is VERY hard to be stung by a mason bee!!!
---
Raising mason bees is extremely simple. If you're a gardener, you have most requirements already in your backyard.
Pollen
A hole to nest in
A house to keep the holes dry
Mud
A good location
Extremely reduced pesticides/insecticides
A little time to harvest cocoons in the fall
A bit of reminding when to do what...
---
Let's overview each element! For more detailed understanding, please click on the various links to Crown Bees' website.
---
Food (a pollen source)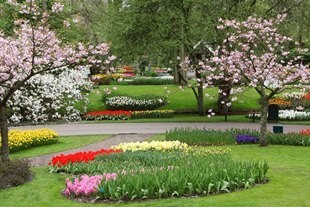 Spring mason bees, like the blue orchard or hornfaced bee, are bees that emerge from their cocoons when fruit trees begin to bud. (Around 55 degrees F.)
These bees are general pollinators and will gather pollen from most sources. Open blossoms like a fruit tree or dandelion (gasp!) are preferable. They are amazing pollinators!
---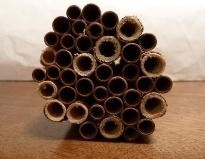 Spring mason bees naturally nest in holes in trees leftover from boring beetles or large fissure/cracks in trees. The optimal hole size for spring mason bees is about 5/16 (8mm). The depth can be about 4-8" deep.
Natural nesting material is preferred. Paper tubes, lake bed reeds, or wood trays are perfect. Please DO NOT use drilled blocks of wood or bamboo which are commonly sold on websites. These wind up becoming mason bee cemeteries after a few years dur to pest buildup. ...and thus, are not good for raising mason bees!
---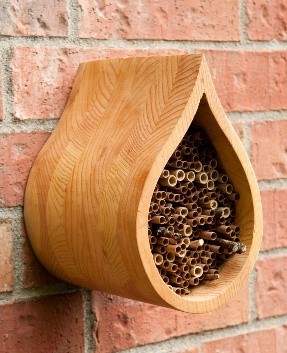 Mason bee tubes/reeds/trays need to be kept dry for the mason bees. Any simple shelter can suffice. ...an opened pop bottle, or a beautiful piece of art can equally hold mason bee tubes in place.
The mason bee tubes/reeds should be held down so they don't blow in the wind and should be positioned "helter-skelter". Mason bees prefer to easily find their hole. Place sticks between the tubes/reeds and pull some out to create a more 3-D look!
A mason bee house with a cocoon emergence drawer is a bonus. (Your harvested cocoons are now loose and the cocoons need to be placed in a container for their spring emergence.)
---
Mud is surprisingly important. Dry and/or sandy dirt can't be picked up and used by these spring mason bees. Rather, moist and clayey mud is best. The mud should be located near the mason bee house. Read more about mud for mason bees.
---
Locate your mason bee house so that it catches morning sun, stays relatively dry (under an overhang), and within 100' (30m) of the pollen and mud. Read more on our website.
---
Broad spectrum insecticides kill everything. Including lady bugs, bees, and other beneficial insects. Even organic insecticides kill everything... just organically.
Learn how to balance your yard with organic and natural methods to eliminate any need for chemicals in your yard. Read the labels on your cans. You'll find that some actually tell you to not spray on open flowers or by water. In a healthy garden, this is next to impossible! There are some parasitic wasps that use 1/8" holes to stuff every aphid they find. A perfect, non-stinging wasp that strips your roses of aphids for no charge!
---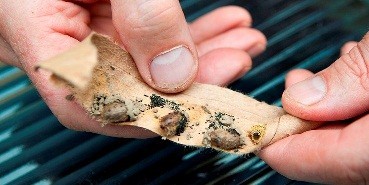 If you were given a car, but never told to change the oil, how long would the engine last?
Similarly, if you don't harvest a portion of your mason bees in the fall to observer pest activity, you'll soon lose most of your mason bees! If you can't open a hole, then you're unable to harvest. This is why drilled blocks of wood and bamboo are poor mason bee hotels!
Harvesting mason bees is relatively easy. We have many pictures and simple steps on our website.
---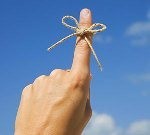 Lastly, for your success, it's easy to forget when to do what. Crown Bees has a reminder program called "Bee-Mail" that tells you when to do what.
We don't like spam either. Our newsletter is precise and helps you know:
What you should be doing that month
What your bees should be doing
Remedies to certain problems
What to prepare for next month
And some news about science studies relevant to mason bees
Raising mason bees is easy. Start small with just a few bees. Make mistakes and ask questions. We have most of your questions answered in our website.
Happy Pollinating!