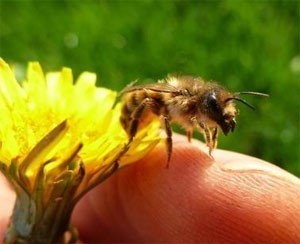 Today, while the honey bees are still viable with large numbers, orchard managers are able to pollinate their crops with no concerns to the future. But, in the future, North America will need billions of mason bees as the honey bee continues to decline in numbers and everyone from orchard managers to backyard gardeners will have fewer bees to pollinate our fruit-bearing plants and trees. Basically speaking, no bees, no food.
Today, the backyard gardener holds the key to the future success of "putting food on our plates" - Dave Hunter, President of The Orchard Bee Association
When orchard managers, farmers and gardeners begin looking for an alternate pollinator to the honey bee, there won't be enough, unless:
The backyard gardeners are coordinated and actively raising the mason bees years in advance.
That's where our friend Dave Hunter, president of the Orchard Bee Association, comes into the picture.
Many of you may have heard about the challenges the honey bees are facing. In order to raise more awareness about these challenges, and to educate gardeners on how we can participate in increasing populations of other types of pollinating bees, specifically Mason Bees, Dave launched CrownBees.com and Bee-Mail.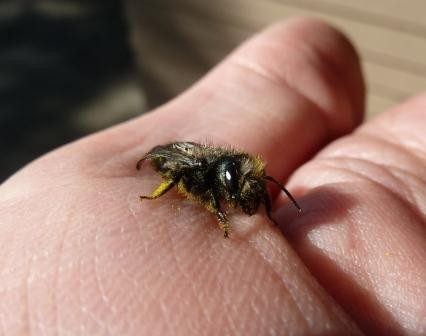 Mason Bees are very friendly, gentle bees. The males have no stinger. The females can sting but really have to be in personal jeopardy to do so. If caught in clothing or pinched between fingers, then yes, they might sting. The venom is very mild and generally produces little long term pain or swelling.
We, the founders of Gardenality, hope the information provided in CrownBees.com will encourage you to get involved and start taking action to increase pollinator bee populations. Doing so will not only help local orchards and farmers but will also increase the amount of produce and the number of flowers you produce in your own back yard!
Each section of the Crown Bees website was written in mind so that you will hopefully think through your own personal involvement in Crown Bees program. It's not an expensive endeavor, it's totally safe, and the benefits are rewarding and priceless to you, your children and everyone!
Through the CrownBees.com website you can sign up for Bee-Mail. It is a small e-newsletter that will provide reminders about the various steps to take throughout the year to raise your own Mason Bees. You'll receive a newsletter roughly each month to help you succeed.
If raising Mason Bees to produce more produce and flowers sounds interesting to you, and you would like to join me and the many other gardeners all over America who are participating in the Crown Bees program, click here to get started.