Encore Azaleas debuted in the late 1990s and are the only patented azaleas to bloom in spring, summer and fall. They begin their performance with the spring flowering season. Once this "first act" of blooming concludes, new shoots begin to grow and set buds. The Encore azalea's "second act" opens when these buds begin blooming into full flower in mid-summer. This unique bloom season continues through the fall, and the curtain doesn't drop until the onset of cold weather. Encore azaleas were developed by Louisiana nursery grower and plant breeder Robert E. "Buddy" Lee. Lee first envisioned Encore azaleas in the early 1980s when he found a tray of azalea cuttings blooming in the summer sun at his small Louisiana azalea nursery. Inspired, he began crossing traditional spring-blooming azaleas with the rare Taiwanese summer-blooming azalea, Rhododendron oldhamii. After many years, the Encore azaleas were ready for their gardening debut.
Since the late 90's to the present, the nursery I help to manage, Wilson Bros. Nursery & Garden Center in McDonough, Georgia, has tested each variety in our own trial gardens. I can't remember now how many varieties were originally released, but the number of varieties that now make up the family of Encore Azaleas is 29, with a new variety scheduled for release in 2016. As is usual, a few varieties have stood out among the rest as the best performers...at least in our gardens, which are locate in zone 8a of mid-Georgia.
Based on how they've performed in our trial gardens, and on the feedback we've received from many gardeners listed, listed below are 8 varieties that stand out as the best overall performers.
Top 8 Pick's
---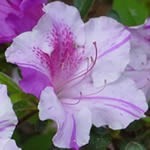 Autumn Twist
Perhaps the most unique of the Encore Azalea family, and why it's one of the most popular, Autumn Twist produces an abundance of large, eye-catching white and purple striped blooms in spring, summer, and fall against dark green foliage. Some blooms may be all purple or all white which provides a multi-color effect. Autumn Twist is one of the larger growing Encore Azaleas to 4.5 feet tall with an equal spread. It is useful in foundation plantings, in small or large groupings in landscape beds or singularly in containers. Buy Autumn Twist Encore Azalea Here
---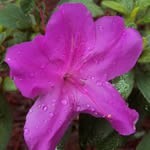 Autumn Royalty
Voted AZALEA OF THE YEAR by the American Rhododendron Society, Autumn Royalty produces an abundance of large, eye-catching rich purple blooms are produced in spring, summer, and fall against dark green foliage. Autumn Royalty is one of the larger growing Encore Azaleas to 4.5 feet tall with an equal spread. It is useful in foundation plantings, in small or large groupings in landscape beds or singularly in containers. Buy Autumn Royalty Encore Azalea here
---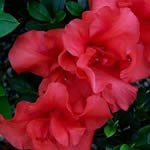 Autumn Embers
By far the best seller at Wilson Bros. Nursery, Autumn Embers features large, deep orange-red flowers. An abundance of these eye-catching flowers are produced in spring and fall and sporadically during summer. It's smaller habit and its lower height to 3 feet makes Autumn Embers useful in foundation plantings. It is also useful planted in small or large groupings in landscape beds or singularly in containers. Buy Autumn Embers Encore Azalea Here
---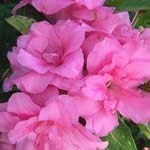 Autumn Carnation
Autumn Carnation produces an abundance eye-catching, double pink flowers that are produced in spring, summer, and fall. The exceptional flower quality, color and lustrous dark green foliage make this variety an excellent landscape addition. Growing 4.5 feet tall and wide, is useful in foundation plantings, in small or large groupings in landscape beds, as a hedge or or singularly in containers. Buy Autumn Carnation Encore Azalea Here
---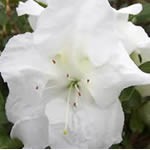 Autumn Angel
Autumn Angel produces an abundance of pretty, pure white flowers that appear iridescent in the morning light. The combination of the stark white blooms and the glossy, deep green foliage makes this variety a wonderful addition to any garden. Flowers are produced in spring and fall and sporadically during summer. It's smaller habit and lower height (3') makes Autumn Angel useful under low windows in foundation plantings. It is also useful planted in small or large groupings in landscape beds, as an informal hedge, or singularly in containers. Buy Autumn Angel Encore Azalea Here
---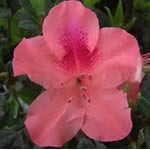 Autumn Coral
Autumn Coral produces an abundance of pretty, soft coral-pink flowers dotted with fuschia centers. Flowers are produced in spring and profusely throughout the summer and fall months. It's smaller habit and lower height (2.5') makes Autumn Coral useful under low windows in foundation plantings. It is also useful planted in small or large groupings in landscape beds, as an informal hedge, or singularly in containers. Buy Autumn Coral Encore Azalea here
---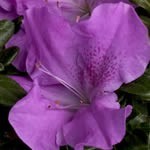 Autumn Lilac
This is one of the more recent releases and we've only been testing it since 2010. It's done very well since then and, because of its awesome flower color, I couldn't help but add it to the list. The rich lavender blooms are accented with darker purple freckle. It was bred for its cold hardy tendencies and selected for its rounded growth habit. Its compact growth habit and consistent rounded shape make it an attractive garden addition even when not in bloom. It is useful in foundation plantings, planted in small or large groupings in landscape beds or singularly in containers. Buy Autumn Lilac Encore Azalea here
---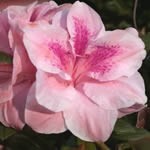 Autumn Belle
Autumn Belle produces an abundance of double pale pink blooms embellished by delicate white lacing and magenta freckles in spring, summer, and fall. One of the larger growing Encore Azaleas, Autumn Belle has a very robust, upright growth habit to 5 feet tall with a 4 foot spread. It is useful in foundation plantings, in small or large groupings in landscape beds, as an informal hedge, or singularly in containers. Buy Autumn Belle Encore Azalea here
---