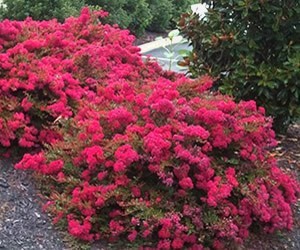 The method for pruning a lower growing, dwarf, shrub-form crape myrtle is much different than for pruning taller crape myrtle trees.
Plant breeders are continuing to improve and introduce new smaller growing crape myrtles which are useful for planting in smaller garden spaces or for growing in containers. There are several new dwarf series to consider, such as the Razzle Dazzle (Cherry Dazzle pictured right), Dixie Series, Fleming Filligrees Series, Little Chief Series and Petite Series crapemyrtles. Hardy to zones 6-9, all the varieties in these groups of dwarf plants hold attributes that make them easy to grow for home gardeners. They also look great just about anywhere: as a border, mass planting or part of a perennial garden, as well as in containers with annuals and perennials. They even work well in bonsai combinations, thanks to their small leaves, mature trunk and twisted branches.
How To Prune Dwarf Crape Myrtles
The methods of pruning dwarf crape myrtle range from easy to not at all.
For starters, the plants really don't require pruning - they have a slow growth rate and a good natural form all on their own.
That being said, deadheading (the removal of faded flowers/ flower stems) can be done during the flowering season to encourage reblooming from summer through fall. To remove a faded flower cluster, simply snip it off with a pair of hand pruners. Then, before new growth begins to emerge in spring flower stems can be removed by shearing or selective pruning.
Broken or stray branches that spoil the shape of the plant can be removed any time of year.