At my home, we plant over 70 containers with annual flowers every season. I like to plant flowers that are attractive to butterflies and hummingbirds. Many of the plants listed below will have these winged beauties flocking to your outdoor garden spaces.
On my back deck, where there is much shade, I use unique varieties of Japanese maple as a centerpiece combined with shade-loving annuals in larger containers. You could also use palms, vines, tropical plants or other interesting plants as centerpieces or backgrounds in your container gardens. When it comes to combinations in container gardening, the sky and your imagination is the limit.
I also use many varieties of perennial plants in combination with annuals in container gardens. However, since this article is about annual plants, below is a list of some of my favorite annual plants.
To see pictures and detailed information about these plants simply copy and paste the name of the plant in the search here in Gardenality.
---
Warm Season Annuals For Full Sun or Part Sun
---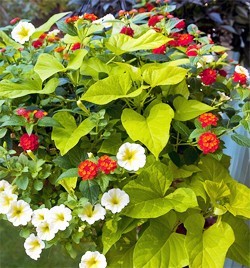 Angelonias - attracts butterflies and hummingbirds
Begonias - sun tolerant varieties
Cordyline / Draecena Spike
Bacopa - excellent flowering cascading plant
Euphorbia 'Diamond Frost'
Licorice Plant Helichrysum - great for providing color contrast and texture
Ivy Geranium - excellent flowering cascading plant
Juncus Grass / Rush - excellent centerpiece and grassy texture
Lantana - one of the best for attracting butterflies and hummingbirds
Million Bells Calibrachoa - attracts butterflies and hummingbirds
Papyrus / Umbrella Palm
Pennisetum Grasses - excellent centerpieces or background
Pentas - one of the best butterfly plants
Petunias (spreading varieties) - hummingbird magnets!
Portulaca - low water needs
Salvias - hummingbird magnets
Sanvitalia - attracts butterflies
Sun Coleus - great for providing color and texture contrast
Sweet Potato Vines - provides great color and texture contrast
Verbenas - one of the best for attracting butterflies
Click here to see pictures and details for these and other sun-loving annuals for container gardening
Click here to see sun-loving perennials that are suitable for container gardening
---
Warm Season Annuals for Shade to Mostly Shade
---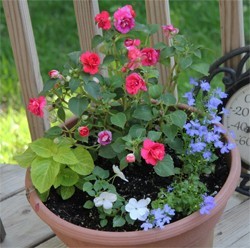 Alternanthera
Begonias (shade varieties)
Caladiums - provides bold color and texture contrast
Coleus (sun or shade varieties)
Creeping Jenny - perennial but had to add it:-)
Elephant Ears - some are perennial
Ferns - great for centerpieces or backgrounds and texture
Fiber Optic Grass - nice grassy texture
Fuchsia - attracts butterflies and hummingbirds
Heliotrope - wonderfully fragrant flowers
Heuchera - perennial but had to add them
Hosta Lilies - perennial but had to add them
Impatiens - attracts butterflies and hummingbirds
Ivy (many varieties) - great for texture, to cascade over edges, or climb trellis
Iresine - provides great color and texture contrast
Juncus Grass / Rush - excellent centerpiece and texture
Lamium - perennial but had to add it
Lobelia (annual) - attracts butterflies and hummingbirds
Oxalis / Shamrock - great color and texture
Spike Moss Selaginella - provides great texture contrast
Sweet Potato Vine - provides great color and texture contrast
Persian Shield Strobilanthes - provides great color and texture contrast
Torenias - attracts butterflies and hummingbirds
Click here to see these and other annuals for shade to mostly shade
Click here to see shade-loving perennial plants that are suitable for container gardening
---
Cool Season Annual Plants for Container Gardening
---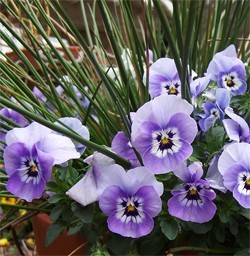 Pansies - a must for all-winter flowering
Violas - miniature pansies that bloom all winter
Flowering Cabbages
Flowering Kales
Juncus Grass / Rush - excellent centerpiece and texture
Swiss Chard
Ornamental Mustard
Diascia
Snapdragons
Nemesia
Dusty Miller
Autumn Fern - perennial
Heuchera - perennial
Cast Iron Plant - evergreen perennial, nice centerpiece or background
Dwarf Alberta Spruce - great as centerpiece and for holiday decorating