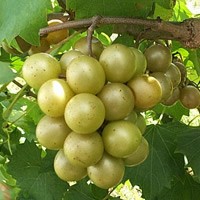 In general, Muscadine vines are not heavy feeders. These natives are right at home in the soil of southern gardens. Muscadine vines can grow in a wide range of soil types. Well-drained soils produce the best growth and yields. Avoid soils that are persistently wet during the growing season. Highly fertile soils are not essential. Muscadines tolerate a wide pH range. Select a site that receives full sun. or topography.
NOTE: Never use manure of any kind at time of planting or around young Muscadine plants. Sawdust, cottonseed meal or peat moss may either slow down growth, damage or kill the plants. At time of planting, never put commercial fertilizer in hole around roots.
At the most, and after plants have become established, a light application in Spring of a slow-release organic fertilizer can be beneficial.