Welcome all to Name That Plant! where you can have fun while earning some great rewards!
Save this page in your favorites so you can quickly come back to it!
Here's how the Name That Plant contest works:
First, the Gardenality Guys select and publish a plant photo here on this page and it is then your job to provide the correct name of that plant. Be one of the first few to provide the correct name and you win a valuable prize from one of Gardenality's Sponsors - the companies who make Gardenality possible and FREE for all of us to use!
Nuthin is ever that easy!...here's the catch
You are not shown the entire plant. Each day, a new photo of the plant is uploaded to this page that reveals a little more of the plant.
How to win?
That's easy. When you think you know the name of the plant use the form found here to provide the Gardenality Guys with your answer. If you're right, you win! If you're wrong, come back tomorrow and try again!
Don't forget to save this page in your favorites so you can get back here quickly without having to search for it!
---
'Name That Plant!'
Sponsored by: GardenerDirect.com
End Date: This contest ended on Wed, August 22, 2012
Check for active contests here
---
We have our winners!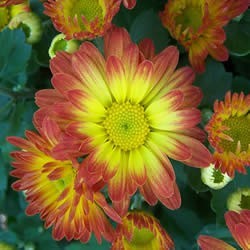 After 5 days we have our winners! Congratulations to the following who were the first 5 folks to provide us with the correct name of the plant: Chrysanthemum morifolium 'Dazzling Stacy'
1ST PRIZE: Bob Andrews - won the $75 Gift Certificate to spend at GardenerDirect.com!
The next 4 runners up won $25 gift certificates to spend at GardenerDirect.com!
2ND PRIZE: John Heider
3RD PRIZE: Doris Shepherd
4TH PRIZE: Sandy McGinnis
5TH PRIZE: Ronald Huntley
Enter To Win!
To find out when the next contest will start be sure to sign up for and join Gardenality - It's Free! You will then receive an email notifying you of when a contest starts. To sign up, go to the Gardenality Homepage or click on the "Signup" link in the top right corner of any page in Gardenality.
Check for active contests here
---
REWARDS!
---
Congratulations to Bob Andrews who was the first person to correctly name the plant, including Common Name, Genus, Species and Cultivar., Bob won a $75 Gift Certificate and 4 others won $25 Gift Certificates to spend however they want at GardenerDirect.com!
About Gardener Direct
GardenerDirect.com is an online gardening store offering high-quality nursery and garden center grade plants and other gardening products. Since 1989, their nursery and facilities are located in McDonough, Georgia.
Gardener Direct has built its reputation on shipping the highest quality plants and gently packing every plant using the highest level of packaging products and methods to ensure your plants arrive safely and in good condition. See how Gardener Direct ships its plants
GardenerDirect's service is personal and they aim to please! They are open all year round, and although some products are not available throughout the year, they do their best to keep you updated at all times on what is available.
---