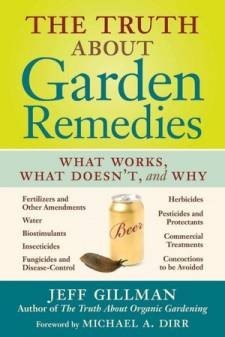 Reading many questions and answers on Gardenality I have noted many home remedies mentioned that supposedly work in keeping plants healthy. I started to research a few of these remedies such as using coffee grounds and beer to grow healthier plants. I found a very interesting book written by Jeff Gillman, Ph. D., and associate professor in the Dept. of Horticultural Science at the University of Minnesota. This book, The Truth About Garden Remedies, was recommended by Madeline Wajda a Pennsylvania Adams County Master Gardener. As Madeline Wajda has found and I too agree, this is a very informative and useful book for anyone trying to save money while tending their gardens.
Gillman notes his book was created for those of us who don't buy what self-professed experts are selling just because everyone else does. It's for those of us who want the best for our gardens, but are skeptical of unproven claims. It is especially for those of us who think it's wise to understand why and how something works before applying it on plants that took us so long to grow and that we take so much pride in caring for. The book offers information on various products and practices that the gurus recommend, and it investigates these claims critically, sometimes with general knowledge, sometimes with scholarly articles, and sometimes with original research specifically designed to get to the truth. Gillman also notes, after reading this book you will be able to distinguish between the garden remedies that work and those that are merely hearsay. You will be also armed with a knowledge of the underlying principles behind each remedy's success or failure, allowing you to take a more objective and scientific approach to the advice you hear in the future.
Madeline Wajda writes; The book is divided into four main sections: fertilizers, water, biostimulants (which cover a number of non-fertilizers thought to affect the growth of plants-including talking to your plants), and pesticides and and protectants. Within each section, there are entries for various products and remedies. After a brief introduction of each remedy or product, there is a description of practice, the theory behind it, the "real story," and finally what it means to the home gardener-complete with a one- to five-flower rating system (except for talking to your plants, about which he says, "It won't hurt anything and it's probably therapeutic.") He also rates what he identifies as "classic conconctions, practices that have been in use since before 1950.
In the back of the book there is an extensive bibliography, detailing sources for much of the research the author has relied upon for his recommendations. Where necessary, he has done the scientific research himself, such as in the beer as fertilizer question (where the final results indicated that "beer is better consumed than applied to your garden.") Beer does, however, get a four-flower recommendation as a slug killer, so long as the traps are set up not only to attract the slugs but to catch them as well. In the fertilizer department, eggshells are a five-flower solution, although they shouldn't be your only source of fertilizer. The author suggests four to five crumbled shells per plant, mixed into the soil around the plant, in the garden or in a pot.
Most of us are familiar with the practice of some gardeners who sprinkle today's used coffee grounds around their plants as additional fertilizer or as a soil acidifier. Dr. Gillman indicates that, to have any impact on the plants, the coffee grounds must be incorporated into the soil. Further, he says, not every plant benefits from the addition of coffee grounds; lettuce benefits quite a lot, while tomatoes do not. There are better soil acidifiers.