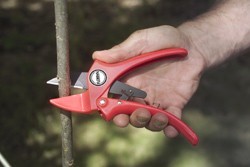 I've been in the landscaping and nursery business since 1981 and can't think of any gardening-related activity that is more therapeutic than pruning. Hand-watering our plants might come in a close second, but this doesn't distract the mind as does pruning. Pruning has a way of easing our worrying mind while watering might give you more time to dwell on all the "problems"! Of course, if there's a problem you need to address or solve, either of these gardening activities are very helpful. But, for me, pruning is still my favorite of the care taking activities.
With the above being said, if you do a lot of pruning and don't have a good pair of hand pruners, or you suffer from arthritis, pruning can become a monster that cripples your hands for days...or maybe even permanently if you do a serious amount of pruning on a regular basis, such as we do at our nursery and garden center. This is when it becomes VERY important to have a high-quality pair of pruners.
Through the years, I've tried about every kind of hand pruner and lopper pruners that has come available in our market. I've had some good ones and some bad ones. This article isn't about attacking the substandard products but about pointing out the pruners I personally like most.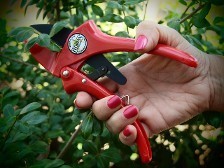 Recently I was introduced to a new brand of pruners. Well, they were new to me. I tried a pair of Florian Ratchet-Cut pruners out. Until this time, I thought good pruners were good pruners, right? Wrong. These pruners made pruning about 10 times easier than with any other tool I had used in the past. That pretty much made them great pruners! What was the difference? These pruners were designed using a patented "Ratchet-Cut" technology.
The patented Ratchet-Cut mechanism on the Florian pruners, as well as the larger lopping pruners, works like the jack on your car. This mechanism multiplies your strength up to 700% when pruning with this hand pruner. This allows people with arthritis, carpal tunnel or diminished hand strength, and those who want to prevent these problems in the first place, to enjoy the pleasures of gardening without the pain or worries.
These innovative pruners and loppers easily cut through stems and branches up to 3/4" (pruners) to 1-3/4" (loppers) diameter using the ratchet mechanism. All it takes is a few short, easy squeezes of the handle and you'll be through. The designers really had both professionals and home gardeners in mind. The pruners feature high carbon steel cutting blades with a Teflon coating to resist sap buildup, a fiberglass-reinforced nylon body and are lightweight and easy on the hand. Great solution!
---
Where to buy?
---
You can buy Florian pruners at your local nursery and garden center or other retailer or on the internet at GardenerDirect.com or other online retailers.