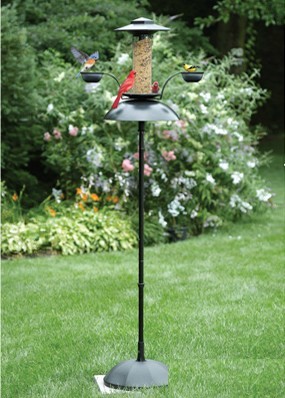 Chances are you're reading this article because you are an avid feeder of birds, or you're wanting to get into feeding birds and looking for more information and some reviews on the different types and brands of bird feeders on the market.
I've been feeding birds on my property for over 20 years. Presently, I have about five bird feeding stations, not including the eight watering and bathing stations scattered throughout the gardens. These water stations consist mostly of various shapes and sizes of bird baths and watering dishes, and a garden pond, which are spread throughout the front and back yards. If you're gonna feed the birds you have to give them some water to drink and bathe in too!
When it comes to bird feeders, over the past twenty years I've purchased and used every type and many various brands. Some of these bird feeders were very good quality while others were very poor quality. In recent years, I've used mostly the "tube-type" feeders that usually have an elongated central tube for a hopper, a cap at the top, and a feed tray or perches at the base.
Regarding the many various brands of bird feeders, in recent years, I've learned that many manufacturers go more for looks than for quality. It's more about "reeling you in" with a flashy bird feeder at a cheap price rather than trying to satisfy you and your birds long term with a feeder that works and holds up well over the long term.
For example, several years ago I saw a really nice looking 3-station tube-type bird feeder at a local hardware store chain. It looked so cool that I bought it on impulse for $69 without even checking to see what material the hopper tubes were manufactured from. That morning I hung it on a shepherd hook and filled it with seed. When I got home from work later that evening I looked over at the feeder to see if birds were using it, but the feeder wasn't there. When going in for a closer inspection I noticed it was lying on the ground in about 10 different pieces. The thing had literally fallen apart. Upon closer inspection it became apparent that a squirrel had chewed through the cheap plastic hopper tubes, which then caused the feeder to literally fall apart at all the seams.
When this feeder just fell apart, I remember asking myself "how can any company manufacture something so cheap and expect to build a good reputation for building good bird feeders?" But, I suppose, if you're a Chinese manufacturer selling to the USA you don't really care about quality or reputation? When you've sold millions of THIS crappy feeder you'll drop it and design and sell THAT crappy feeder? This isnt to suggest that all China-made products are bad quality...maybe they're just keeping the good stuff for sale at home?
Needless to say, since that disastrous experience I've been very careful when buying bird feeders for use at home. Even at our nursery and garden center, where I am the buyer of all bird feeders and supplies, I'm a stickler when it comes to finding quality bird feeders to offer to our customers. I don't want to offer any bird feeder from our store that I wouldn't use myself in my own yard.
As previously mentioned, most of the bird feeders on my property are the hanging-type tube feeders. If you've ever had a good tube-type bird feeder, you know they make sense but filling them with seed can sometimes be a problem. Filling the feeder usually means taking it down from whatever you have it hanging on and then balancing it on the ground to pour the seed in the tube. The process of filling the tube can be awkward and disastrous. When filling, I usually have to step on the feeding tray at the base of the feeder and hold it steady between my legs while filling the tube with seed. In the process some seed still spills on the ground and, sometimes, just when I've completely filled the tube it falls over and all the seed ends up on the ground! You know what I'm talking about.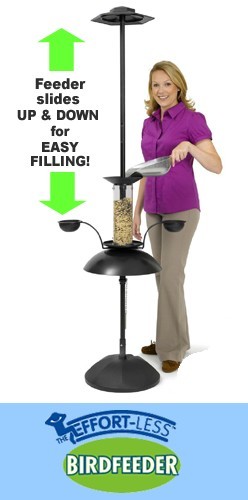 But there's good news. Recently I was introduced to a new brand of bird feeders called 'Effort-Less Bird Feeders'. The revolutionary design of the Effort-Less Bird Feeder eliminates all the problems associated with both filling and cleaning conventional bird feeders. Not to mention most models are equipped with a squirrel guard that makes them squirrel proof. And, if that isn't enough, the manufacturer provides a 5-Year Warranty on their sturdy feeders...a sure sign that the quality is there!
The most revolutionary aspect of the Effort-Less Bird Feeders are the way you fill them with seed. Whether you choose one of the free standing or the hanging models, there's no taking down the feeder or removing the top to fill it. No need to struggle with a ladder or do gymnastics to fill it. The feeder actually slides up and down a pole for easy filling. Same goes for cleaning. Just slide the feeder down the pole to easily and effortlessly clean it with a jet stream from the garden hose. Keeping a clean feeder is important as it prohibits the spread of disease among the birds.
I purchased and now use two of the Effort-Less Bird Feeders. The "Oasis" freestanding model and the Effort-Less Hang-Up. Both have the squirrel guard at the base of the feeder. The freestanding Oasis has a base that can be filled with up to 25 pounds of sand, preventing the feeder from falling over when there are high winds. This means you can place it anywhere you want; on your patio or deck or out in the garden.
The Effort-Less feeders are bird-friendly feeders that are easy to fill, easy to clean, feed more varieties of birds, and keep the squirrels away. The end result of the development and inspiration behind the Effort-Less Birdfeeders is an exceptionally high-quality feeder that will give you years of lasting service. And the manufacturer stands behind their product with a 5 Year Guarantee!
Where to buy the Effort-Less Bird Feeder?
You can buy these feeders at your local nursery and garden center, feed & seed store, or other retailer who carries bird supplies or you can buy them on the internet at GardenerDirect.com or other online retailers.