Dendranthema Hardy Garden Mums
What is the difference between Chrysanthemums and Dendranthema?
Formerly known as Chrysanthemum, in 1961 the genus Chrysanthemum was separated into several unique genus, or sub-groups some of which are called "mums." Although it has switched back and forth over the years, today the individual genus are commonly used in botanical nomenclature. The "corrected" genus for these common garden plants are:
Dendranthema
Dendranthema grandiflora are the most hardy of all mums, serving as the most dependable perennial mums available. Dendranthema grow in a radiating, spreading mound (much wider than Chrysnthemums) with medium to dark green, 3 to 5 lobed leaves similar in appearance to Chrysanthemums. Dendranthema are equally floriferous as Chrysanthemums. An abundance of daisy-lik e flowers branch out from the ends of each stem to put on a spectacular show in the fall garden. Flowers come in a wide variety of colors, with the exception of blue, and range from single petaled with a yellow center to semi-double or fully double blooms. Unfortunately, it is only the single flowered varieties that are commercially grown and available in the market. Wilson Bros. Is doing everything it can to re-introduce more varieties to the market.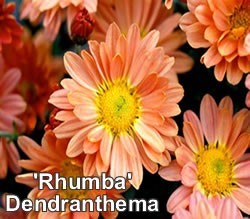 Chrysanthemum
This name is still commonly used for marginally hardy florist mums to differentiate from the true hardy Dendranthema. Hundreds of varieties of Chrysanthemums come in a wide selection of flower types (decorative, cushion, pon-pom, daisy, etc.) and hundreds of unique colors in shades of yellow, red, orange, bronze, burgundy, maroon, gold, white, pink, and purple.
Leucanthemum
These are the summer-flowering Shasta and Oxe-eye daisies that typically have single or double, daisy-type, white flowers with a yellow eye zone. A few varieties will bloom in fall.
Tanacetum
These are herbaceous plants such as feverfew, painted daisies, and tansy.
CULTURE & CARE TIPS
USDA Plant Hardiness Zones: 6A-9B, otherwise, it's grown as an annual or short lived perennial
Soil: Plant Dendranthema in rich, moist but well-drained soil and mulch lightly after planting. Avoid consistently wet or soggy soil conditions to prevent root rot.
Light: Plant Dendranthemas in a location that provides full sun to part sun. A little shade during the hottest part of the day is okay.
Fertilzation: Feed Dendranthema in spring with a slow-release flower food.
Water: After planting keep plants watered regularly until they have established themselves. Be careful not to over water as they do not like wet feet.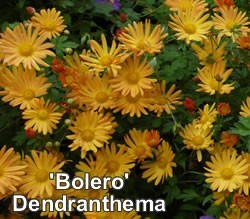 Pruning: Dendranthema don't require the attention to pruning as do Chrysanthemums. You can let plants go and they will flower fine. Spent flowers can be deadheaded to encourage new buds and flowers, extending the flowering season. If you want more compact growth and a rounded form you can pinch the stem tips in late spring or early summer. You might want to thin plants every 2 to 3 years to control their spread.
Landscape uses: Dendrathema Hardy Garden Mums are perfect for use in the perennial garden border, in landscape beds and in containers.
Companions: Combine them with chrysanthemums, ornamental grasses, asters, sedum, and other late summer and fall blooming perennials.