---
NOTE: Information in Gardenality Articles are provided by many different people. While the authors of these pages may or may not try to keep them accurate and up-to-date, Gardenality cannot guarantee that they always will be. Unless otherwise noted, the information in any specific Gardenality Article does not represent official statements or views of Gardenality. Any links to external websites found in a Gardenality Article should not be construed as an endorsement by Gardenality of the content or views of the linked materials.
---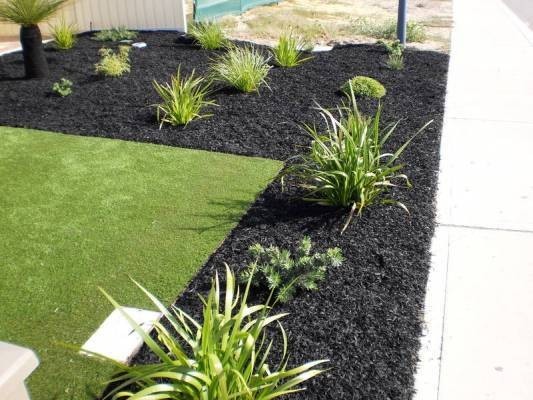 Rubber mulch is used in gardens, playgrounds and landscapes. The recyclable rubber is composed of worn, mashed up tires of all types. This mulch has several more benefits than plant mulch. Rubber is more beneficial at insulating soil along with reducing weed and fungal growth. It is more elastic and springy, which makes it less dangerous to use in playgrounds. The best rubber mulch disintegrates less and lasts longer than wood mulch. Most of all, the use of this mulch contributes to recycling and sustainable landscaping.
The Environmental Protection Agency (EPA) has permitted the use of rubber mulch in playgrounds. This pile of materials creates a good fall zone for running and jumping children. Adults are not there to protect children from hurting themselves, but they can use protective materials around the playground. Rubber parts are soft, cushiony materials that break hard falls. The parts are lightweight, non-toxic and easy to carry. The pile deters the growth of weeds and the attraction of bugs and animals. During the summer, rubber feels cool underneath children's feet. Kids will like the cool, soft texture.
In addition to playgrounds, rubber is used in stadiums and outdoor areas where athletes exercise. Rubber changes shape without tearing or breaking apart easily. Athletes do not have to practice on hard surfaces that create injuries. The tire parts reduce the stress on their bodies. Also, rubber does not attract dust, so horses and riders stay free of allergies and asthma. The horse feels comfortable and performs well.
Unlike plant or organic mulch, rubber mulch does not rot, dissolve, disintegrate or harbor mold. This type of mulch is used anywhere that a soft and durable pile of materials is needed. This mulch is mixed with asphalt to create roads. This new road material is longer last, skid resistant and resistant to cracks. The rubber is gentle and shock absorbent. Using it is an ideal way to recycle used tires and reduce the additions to landfills.