---
NOTE: Information in Gardenality Articles are provided by many different people. While the authors of these pages may or may not try to keep them accurate and up-to-date, Gardenality cannot guarantee that they always will be. Unless otherwise noted, the information in any specific Gardenality Article does not represent official statements or views of Gardenality. Any links to external websites found in a Gardenality Article should not be construed as an endorsement by Gardenality of the content or views of the linked materials.
---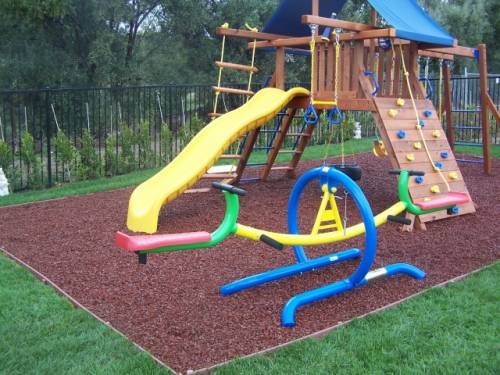 Mulch can make the difference between a live garden and a dead one when drought sets in. Mulch slows evaporation from the soil, prevents weeds from growing and provides insulation against extreme heat or cold. Unfortunately, wood mulch does have some drawbacks. These include:
• Graying or dull coloring from bleaching in the sunlight.
• It must be renewed every year due to decomposing.
• The mulch can contain an insect infestation that could kill your plants.
• If the mulch was made from painted or treated wood, the chemicals could leach out into the soil and create a hazard for you, your pets and family.
• Wood mulch could contain bits of glass, nails or other hazardous substances.
An alternative to wood mulch is to use rubber mulch in its place. Rubber mulch will not attract insects, break down in the environment or be affected by the sun's UV rays. It provides the same insulating and anti-drying action as wood and will last for decades. This is money and labor saving in areas such as schools, libraries, commercial and residential applications. Apartment owners, landlords and homeowners only need to apply a two-inch deep layer near shrubs and trees; it will not migrate when the wind blows or float away with the rain.
It can be used as playground coverings, to provide a comfortable surface for jogging tracks, walkways and fall zones or safety areas. Rubber chips or pieces can be ordered in 2,000 lb sacks as bulk orders for large area coverings.
The best rubber mulch has been carefully inspected to ensure no contaminants are present such as steel or toxic chemicals. It is available in different colors such as blue, redwood, green, brown and of course, black. This allows you to customize your garden, walkway or play area to complement your style and décor.
To customize a landscape, provide a safety zone, create a comfortable walkway or arena, choose the best rubber mulch on the market today.