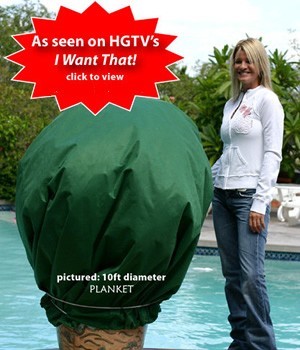 The Planket™, a product of Brainchild, Inc, is an attractive and versatile plant cover that provides homeowners with proven frost protection for outdoor plants.
Homeowners and gardeners all over the world are passionate about protecting their outdoor plants and the Planket makes it easy. The Planket has been protecting plants since 2006. The Planket was originally invented to protect large potted plants from the cold and frost eliminating the need to drag them inside. The Planket is designed to be an easy-to-use, durable, and visually appealing way to protect outdoor plants from threats of temporary frost and freeze.
Where to Buy The Planket?
We currently offer The Planket ranging in size from 6', 8', & 10' round to our bestseller 10' x 20' rectangular along with the Planket Stakes to secure the 10' x 20'. You can purchase The Planket frost protection plant cover in various sizes at ThePlanket.com
The Planket provides customer service through our social networking sites. Have questions? Want to learn better ways to protect your plants from frost? Join the conversation by following us on Twitter and liking us on Facebook.
Brainchild, Inc is a privately held company located in Dallas, TX.
Call Us! (972)-661-5133