Map to Wilson Bros Nursery at the bottom of this page - CALL US! (770) 954-9862
---
A little about us...
Since opening in 1989, Wilson Bros Nursery & Garden Center has grown from its original size of 1.5 acres to about 5 acres in size. With acres of flowers, shrubs, trees, perennials, and herbs, Wilson Bros Nursery has everything you need to create a garden masterpiece. Everywhere you look, another exciting color, texture, or fragrance triggers your senses. And when inspiration strikes, our friendly and knowledgeable staff can help you find the best plants for your home's terrain, as well as the supplies you need to bring your visions to life. Our landscaping divison, WIlson Bros Landscape specializes in site sensitive landscape design and installation using plants, structures and other materials that fit perfectly in the Atlanta Metro area environment.


---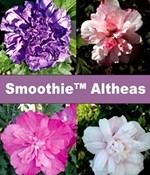 Last updated on: 9/20/2014
Click here to see THIS WEEK'S newsletter >>
In case you missed it...Click here to see LAST WEEK'S Wilson Bros Newsletter >>
Hi Folks!
Hope everyone has enjoyed this past week with the cooler temperatures and lower humidity. We sure have!
Now that fall has arrived you'll find lots of fresh new plants at the nursery. Last week we talked about the new Smoothie Altheas (pictured right) and still have some of these beauties in stock in full bud and bloom. If you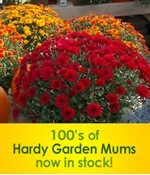 missed them last week, make sure to come by the nursery this weekend and get one before they're all gone! You'll also find these and many other exciting plants that we carry at the nursery available on our online store.
We've tripled the number of hardy garden mums in stock. These beauties are local-grown...some are starting to show color, others are starting to crack some color, and the late-blooming varieties are still tightly budded waiting for October until they bloom. Either way, we have large signs with pictures of the flower on every variety we have in stock. Learn more about garden mums and how to care for them here.
If you're planning on growing a fall vegetable garden we have plenty of cool season vegetables in stock. Learn more about growing fall veggies in the South here.
If you're looking to add color to your landscape, make sure to check out the fall-blooming Encore Azaleas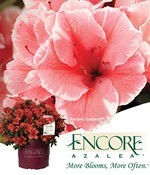 while you're at the nursery, such as the most recent introduction to the Encore family Autumn Sunburst (pictured right) and 28 other varieties. You won't find a larger selection of Encores anywhere in Georgia! Unlike other azaleas that bloom only one time a year, Encore Azaleas bloom in spring, summer and fall.
We've also got loads of Sasanqua Camellias, the Plant of the Week: Muhly grass, and many other plants you can plant now to color up your fall season landscape. If you want the brightest yellow tree on earth consider planting a Gingko tree.
It's still a little too warm for pansies but we should have a good selection in next weekend, when temps are forecast to drop into the 70's for daytime highs. In the meantime, check out these free container garden designs to get some ideas and get the creative flower gardening juices flowing.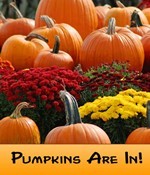 With Halloween only a little over a monthy away we've got lots of pumkins, corn stalks, gourds, wheat straw bales and other items you can use to get your fall displays and decorations going.
These days, we've got one of if not the best selections of outdoor pottery in Henry County. You can fill these with fall flowering annuals, perennials or vegetables and place them on patios, porches, decks and in or around other outdoor living areas to provide season-long color.
Click here to see THIS WEEK'S newsletter >>
In case you missed it...Click here to see LAST WEEK'S Wilson Bros Newsletter >>
Don't forget to...
SEE YOU AT THE NURSERY!
The Staff at Wilson Bros
Call Us! 770-954-9862
Email Us: wbnursery@gmail.com
HOURS OF BUSINESS: Mon-Fri: 8am-6pm / Sat: 8am-5pm / Sun: 10pm-5pm
---