Map to Wilson Bros Nursery at the bottom of this page
Last Updated: 11/15/2013
---

---
THIS WEEK'S COUPONS
Scroll down this page to get a coupon for a FREE 6-pack of Pansies and find other valuable, money-saving coupons.
ENTER TO WIN THE $250 SHOPPING SPREE
Each and every month throughout the year, Wilson Bros. Nursery draws 4 winners for it's $250 Shopping Spree. Winners are rewarded with a Wilson Bros Nursery Gift Card they can spend however they want at the nursery!
Enter the shopping spree here or at the front counter every time you're at the nursery. You gottas enter to win!
WHAT'S ON SALE AT THE NURSERY?
There's always something on sale at the nursery! Click here to see what's on sale this week!
IMPORTANT ALERTS & REMINDERS!
Click here so you won't miss this week's important alerts and reminders!
---
FEATURED PLANT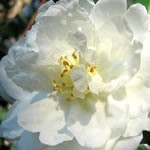 This week's Featured Plant is one of the most popular Camellias of all time that is marked by charm, grace and versatility. This magnificent camellia is known by gardeners for the abundance of stunning, frilly-edged, pure white slightly fragrant blooms that are produced throughout the fall season, and which stand out remarkably against the dark green, evergreen foliage. Growing to about 6 to 8 feet tall with an equal spread it makes and outstanding hedge or corner plant in foundation plantings, or "limbed up" to form a spectacular small tree that is useful as a focal point specimen in the landscape. It can also be used for espalier, which is training it to grow flat against an open wall of the home or other structure. Click here to see this week's Featured Plant and how to plant and care for it.
---
TAKE THIS WEEK'S QUIZ!
How much do you know about Poinsettias? Click here to take this week's Quiz to find out!
---
---
Have a great week and we'll see you at the nursery!
The Wilson Bros. Staff