Map to Wilson Bros Nursery at the bottom of this page - CALL US! (770) 954-9862
---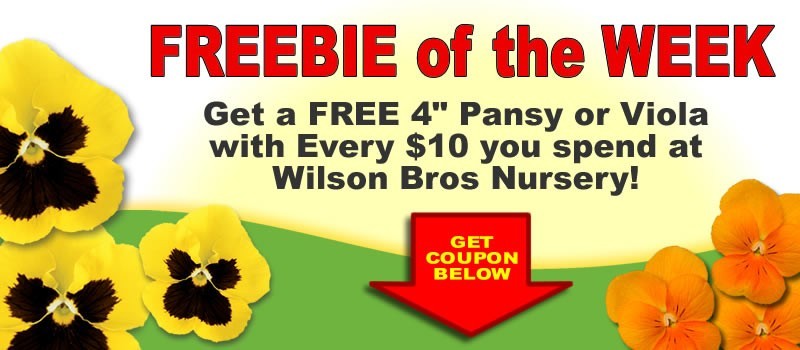 A little about us...
Since opening in 1989, Wilson Bros Nursery & Garden Center has grown from its original size of 1.5 acres to about 5 acres in size. With acres of flowers, shrubs, trees, perennials, and herbs, Wilson Bros Nursery has everything you need to create a garden masterpiece. Everywhere you look, another exciting color, texture, or fragrance triggers your senses. And when inspiration strikes, our friendly and knowledgeable staff can help you find the best plants for your home's terrain, as well as the supplies you need to bring your visions to life. Our landscaping divison, WIlson Bros Landscape specializes in site sensitive landscape design and installation using plants, structures and other materials that fit perfectly in the Atlanta Metro area environment.
---
Last updated on: 10/24/2014
Click here to see THIS WEEK'S newsletter and get important Tips & Reminders >>
In case you missed it...Click here to see LAST WEEK'S Wilson Bros Newsletter >>
Hi Folks
We're coming down the homestretch of October and so far so good. The weather couldn't be more beautiful...sunny skies and perfect fall temperatures. The 10-day forecast on 10/24/2014 is showing more of the same...we even have a few days in the coming week in the low 80's. It's been quite a few years since we didn't go straight from summer to winter...we're actually having a nice long fall for a change!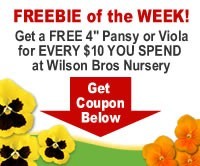 So what's happening at the nursery?
Well, the FREEBIE Coupon was so popular last week we we decided to offer something similar this week for those of you who missed it. Instead of just offering Violas, we've included pansies as well. This week you get a free 4' pot pansy or viola with every $10 you spend (up to $120). So, spend $50 dollars and you get 5 free plants, and so on. Scroll down this page to get the FREEBIE coupon.
What's blooming at the nursery?
Of course the pansies, violas, snapdragons and hardy garden mums are blooming their socks off right now, but there's lots of other plants blooming at the nursery as well...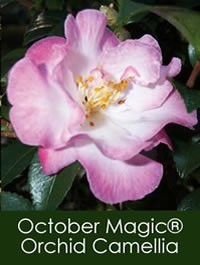 If you like azaleas, fall is a great time to plant the reblooming Encore Azaleas. Wilson Bros has all 29 varieties of Encore Azaleas in stock now. Most are in their fall bloom cycle so you can pick just the right flower color you're looking for! Use this chart provided by GardenerDirect.com to see all the specs on all the varieties and to find suggested color combinations among the group.
The fall-blooming Camellia Sasanquas are starting to show color as well. We've got many old favorite varieties as well as some new ones, such as October Magic® Orchid Camellia (pictured right), which hails from the Southern Living Plant Collection. Growing 3-5 feet tall and 3-4 feed wide with a conical shape, and a profusion of flowers, this beauty is perfect for smaller garden spaces.
Now that temps are cooling off, roses are budding and blooming nicely. When you're at the nursery, you'll definitely want to check out the new Thrive!® Lemon Rose (pictured right), a reblooming, disease resistant rose which was recently selected as one of the University of Georgia's Plants of Distinction. This new rose almost always displays a profusion of light to bright yellow flowers. It is a vigorous grower and rivals the Knock Out Rose in disease resistance and bloom power.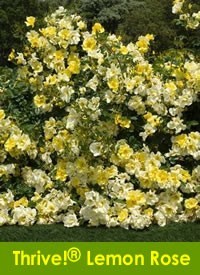 We've also got plenty of Knock Out Roses, including 'Rainbow' Knock Out, which produces multicolor flowers similar in appearance to the old 'Nearly Wild' Rose. The Dwarf Drift Roses are also available in red, pink, peach, apricot and white. These dwarf beauties, which grow 18-24" tall by 24-30" wide, are great for the front of the border and in containers.
Get important tips and reminders and see this week's Plant of the Week in...
This week's Wilson Bros Nursery Newsletter >>
In case you missed it...Click here to see LAST WEEK'S Wilson Bros Newsletter >>
Also...
SEE YOU AT THE NURSERY!
The Staff at Wilson Bros
Call Us! 770-954-9862
Email Us: wbnursery@gmail.com
HOURS OF BUSINESS: Mon-Fri: 8am-6pm / Sat: 8am-5pm / Sun: 10pm-5pm
---