Map to Wilson Bros Nursery at the bottom of this page - CALL US! (770) 954-9862
---

---

---
Updated: 4/18/2014
CHECK OUT this week's ONLINE EDITION of the *WILSON BROS NURSERY E-NEWSLETTER >>
Hi Folks!
Important Reminder: If you're on one of the Wilson Bros DIY Lawn Care Programs it's now time for Step 2: the application of Lebanon Proscape 18-0-4 w/Weed Preventer. One bag covers up to 12,000 square feet of lawn area feeding with a slow-release, golf course grade fertilizer and prevents crabgrass and other weeds for up to 6 months for $43.97.
Now to some NEWS-U-CAN-USE...
The Weather...
Okay, so it looks like Mother Nature let Old Man Winter off the leash this past week to blow his little last breath for the season. It's truly amazing how after things have warmed up nicely in April there almost always comes a short, late cold front to shiver our timbers. But Mother Nature knows what she's doing. It's usually mid-April or so when the her blackberry plants start to bloom. These flowers need a little blast of cold to set their best crop of fruit. And that's why this late cold snap is called Blackberry Winter! Anyway, we don't see anything remotely close to overnight lows in the 30's so it's time to plant anything and everything.
What's Hot?
Not much has changed since last week...everything is on fire at the nursery! Well, not literally on fire...that would be very, very sad...but you know what we mean:-)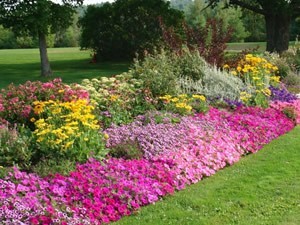 As is usual this time of year, we have tons of shrubs, trees, perennials, veggies, tropicals, vines, low-maintenance roses, ornamental grasses and more in stock right now that are itching to be adopted and planted! Oh, but we forgot to mention one type of plant: annual flowers...or what some of you might call "annual bedding plants." At the nursery, we just call them "annuals." And that's exactly what we'll be focusing on this week.
What are Annuals? Simply defined, annuals are plants that live for one year and are primarily used in flower beds and container gardens to add vibrant splashes of color in the landscape and gardens as well as on patios, porches, decks and around other outdoor living spaces. In general, there are two types of annuals: warm season, and cool season. But we're heading into the warm season so that's what we'll focus on now.
These days, there are endless types and varieties of annuals to choose from. Some, such as begonias, petunias, million bells and geraniums produce colorful flowers while others such as caladiums and sun coleus are sought after and prized for their colorful foliage and the contrast and texture they provide in flowerbeds and container gardens.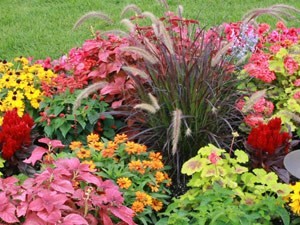 For many, annuals are a go-to solution for many garden needs. Annuals are a quick way to fill empty spots in garden beds, create small or large splashes of vibrant color, or use singularly or mixed in container gardens. For any garden, there are dozens of annuals that work for particular sun/shade situations, soil conditions, and color preferences.
Check out the links below to get some annual plant gardening tips from our experts...
Design Tips & Ideas For Container Gardens
Design Tips & Ideas for Annual Flower Beds
How To Plant In Containers
How To Plant An Annual Flower Bed
For many more tips check out the ONLINE EDITION of this week's WILSON BROS NURSERY E-NEWSLETTER >
As always, let us know if we can be of any assistance. Enjoy your week and we'll see you at the nursery!
Don't forget to...
SEE YOU AT THE NURSERY!
The Staff at Wilson Bros
The Staff at Wilson Bros
---