Map to Wilson Bros Nursery at the bottom of this page - CALL US! (770) 954-9862
---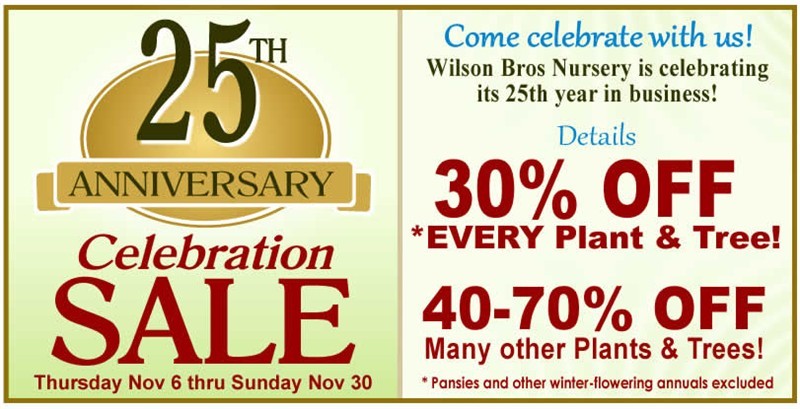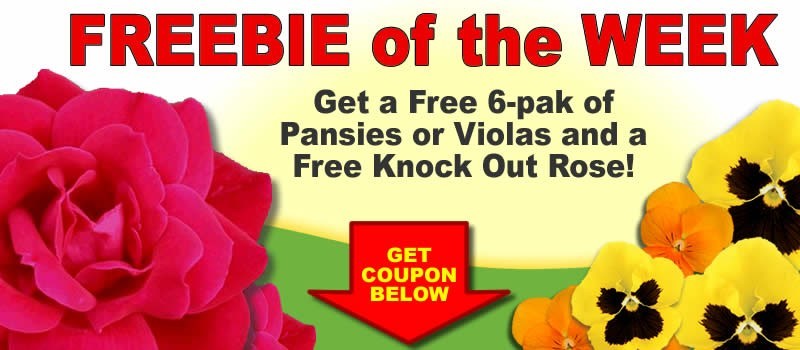 A little about us...
Since opening in 1989, Wilson Bros Nursery & Garden Center has grown from its original size of 1.5 acres to about 5 acres in size. With acres of flowers, shrubs, trees, perennials, and herbs, Wilson Bros Nursery has everything you need to create a garden masterpiece. Everywhere you look, another exciting color, texture, or fragrance triggers your senses. And when inspiration strikes, our friendly and knowledgeable staff can help you find the best plants for your home's terrain, as well as the supplies you need to bring your visions to life. Our landscaping divison, WIlson Bros Landscape specializes in site sensitive landscape design and installation using plants, structures and other materials that fit perfectly in the Atlanta Metro area environment.
---
Last updated on: 11/14/2014
Click here to see this week's Wilson Bros Newsletter >>
Click here to see last week's newsletter >>
Hi Folks
Last week we announced that November of this year is Wilson Bros 25th anniversary in business and, to celebrate it, we'd throw a BIG CELEBRATION SALE to show our appreciation to all of you have have supported us over the past 25 years. The sale was supposed to end Sunday Nov. 16th but we decided we liked celebrating so much we'd extend it all the way through the end of November. This kind of sale won't come around again for another 25 years so come in asap to take advantage of some great deals on some great plants!
In case you missed laste week's newsletter, here's the scoop on the Celebration Sale...
Every plant and tree on the nursery is 30% off during the sale and many other plants and trees are marked down from 40 to 70% off! Pansies and other cool season annuals are the only plants not included in the sale. These plants are in very limited supply right now so we don't want to run out too early in the season by discounting them. But everything else...Encore Azaleas, camellias, crape myrtles, Knockout & Drift roses, perennials, flowering shrubs and trees, and all other plants and trees are included!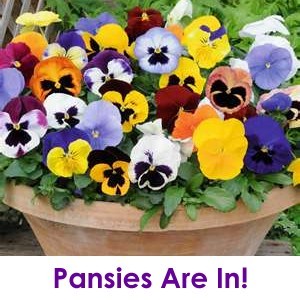 As we move along with the season the temps are getting cooler and cooler and the Pansies are lovin' it! All the leaves are falling off the trees, the yard is turning brown (unless you overseeded your lawn with ryegrass), but Pansies and Violas (dwarf pansies) are here to save the day and fill our landscape, gardens patios, porches, decks and other outdoor living areas with vibrant color throughout the winter. Pansies and Violas are winter wonders. The first time most beginning gardeners hear of them they can't believe you can plant them in the fall season and they'll bloom all the way through winter and into spring. People can't understand how a flowering annual plants that looks as tender as a pansy can withstand the cold...but they do!
Pansies and Violas come in a wide variety of colors. Some are bicolor; have faces(blotches), while others are solid in color. Some produce smaller but more blooms, while others, produce much larger blooms. While yellow, white and purple are traditionally the most popular colors modern hybridizing has expanded the color array to cover nearly every shade in the book of colors.
Wilson Bros has loads of pansies and violas in right now in every color under the sun. We've also got the Plentifall trailing pansies that are great for planting in hanging baskets, pots and window boxes where they will cascade over the rims. So what are you waiting for...come on in to the nursery and pick some pretty colors of pansies and violas out to plant in flowerbeds or container gardens.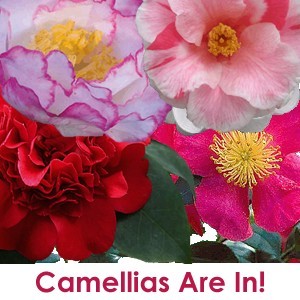 But pansies aren't the only fall and winter blooming plants. While you're at the nursery make sure to check out all the varieties of fall-blooming Camellias that are just now starting to bloom. Many of these evergreen flowering shrubs have a long blooming season which last through Christmas or beyond.
DON'T FORGET TO...
SEE YOU AT THE NURSERY!
The Staff at Wilson Bros
Call Us! 770-954-9862
Email Us: wbnursery@gmail.com
HOURS OF BUSINESS: Mon-Fri: 8am-6pm / Sat: 8am-5pm / Sun: 10pm-5pm
---