Map to Wilson Bros Nursery at the bottom of this page - CALL US! (770) 954-9862
---


---
A little about Wilson Bros...
Since opening in 1989, Wilson Bros Nursery & Garden Center has grown from its original size of 1.5 acres to about 5 acres in size. With acres of flowers, shrubs, trees, perennials, and herbs, Wilson Bros Nursery has everything you need to create a garden masterpiece. Everywhere you look, another exciting color, texture, or fragrance triggers your senses. And when inspiration strikes, our friendly and knowledgeable staff can help you find the best plants for your home's terrain, as well as the supplies you need to bring your visions to life. Our landscaping divison, WIlson Bros Landscape specializes in site sensitive landscape design and installation using plants, structures and other materials that fit perfectly in the Atlanta Metro area environment.
---
Last updated on: 3/06/2015
---
Read this week's Wilson Bros Nursery Newsletter and find all past newsletters the Newsletter Archive >
---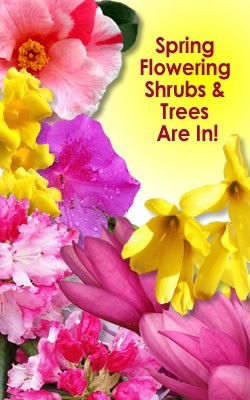 HI FOLKS!
First, with day and nighttime temperatures on the rise, we want to remind those of you on a Wilson Bros DIY Lawn Care Program that it is now time to apply Step 1: application of Team 2G Lawn Weed Preventer. The application of this product will kill weed seeds of Poa annua, Henbit, Crabgrass and other early to mid-Spring weed seeds that will be sprouting over the next month or so.
This is that time of year at the nursery we're paying close attention to the weather forecasts. And the forecast for the coming week looks like we're going to start seeing more spring-like weather. Forecasts are showing some more rain, but the temperatures are definitely on the rise. YAY!...Spring is here! Well, not quite. Officially, the first day of Spring is March 21st. But don't take that to mean we can start planting our vegetable gardens or seasonal flowerbeds veggie plants and annual flowers just yet, such as Marigolds and Impatiens. You'll want to wait until all chances of frost have passed, and nightime temps are consistently above 45 degrees or so, before planting these tender plants that can be permanently damaged or killed by a late frost, which is usually the first week of April at the earliest.
March is a perfect time, though, for planting hardy flowering and evergreen shrubs, trees, perennials and other hardy plants. All of these can be safely be planted now. That's why truckloads of plants are now arriving daily at the nursery! So come in and take a look at the wide array of spring-flowering plants and trees that are in bud and/or bloom right now. Many of these special plants, such as Fragrant Winter Daphne and Fragrant Winter Honeysuckle, are only available at the nursery for a limited time in early spring. And this is the time of year we have the largest selection of other flowering shrubs such as winter-flowering Camellias, Tulip Trees, Flowering Quince, Reeves Spirea, Native Azaleas and many more!
Anyhow, when it comes to timing for planting, the best thing to do is stay tuned to the newsletter as the season progresses and we'll let you know when it's safe to plant what! Unlike some of the big box stores who pull in and want to sell you veggie plants and annual flowers WAAAY to early, Wilson Bros Nursery is here to provide reliable and accurate information and advice to help you have the best success in your landscaping and gardening endeavors ad adventures.
Want to send Wilson Bros plants to friends almost anywhere in the USA? You can now do so from our webstore: GardenerDirect.com
SEE YOU AT THE NURSERY!
The Staff at Wilson Bros
Call Us! 770-954-9862
Email Us: wbnursery@gmail.com
HOURS OF BUSINESS: Mon-Fri: 8am-6pm / Sat: 8am-5pm / Sun: 10pm-5pm
---