Map to Wilson Bros Nursery at the bottom of this page - CALL US! (770) 954-9862
---

---

---
Last updated on: 7/31/2014
Get important alerts & tips in THIS WEEK's Wilson Bros Newsletter
Click here to see LAST WEEKS online edition of the Wilson Bros Nursery Newsletter >
Hi Folks!
Hope everyone had a great week. We want to remind everyone that the Mid Summer Clearance Sale at Wilson Bros Nursery is still going on. It's that time of year we need to find some homes for many types and varieties of plants so have deeply reduced prices to up to 70% OFF! So come on in and see what we got and maybe take home a few great bargains and give these plants the home they need!
Daisies are like sunshine to the ground
It's mid summer in Georgia and that means the daisies are blooming! Daisies are simple yet sophisticated and are some of the most beautiful flowers in the floral world. Daisies convey cheer and exuberance and, not surprisingly, are some of the most popular flowering plants in the world.
You'll find many varieties of perennial and reseeding daisies at the nursery this time of year, such as the ever-popular black-eyed susans (Rudbeckia) and shasta (Chrysanthermum) daisies. It's the Rudbeckias that are really putting on the show right now with their golden-yellow to bright yellow flowers and dark central cones (eyes).
Create your own sunny field of gold by combining Rudbeckia for a captivating display! Here's the varieties in stock right now at Wilson Bros...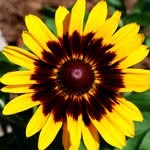 'Denver Daisy' - Introduced to mark the 150th anniversary of Denver, CO. At around 3 feet tall, this Black Eyed Susan is perfect for a border or container garden. Its beautiful bright golden blooms illuminate the garden. The Denver Daisy produces large yellow flowers with a large radiating black/burgundy center. Robust plants with profuse flowering on strong stems make for excellent cut flowers. Attract butterflies. Leave the seasons last flowers on the plant and this one will reseed into a patch. Plant File
---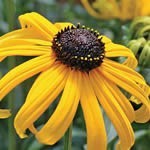 'Early Bird Gold' - A genetic breakthrough in Rudbeckia, this new variety has the incredible advantage of being day length neutral (not dependent on day length to induce flowering) which means that it starts blooming much earlier and continues to bloom later into the season. 'Early Bird Gold' was discovered in a field of Rudbeckia 'Goldsturm' at Dupont Nursery in Louisiana where it bloomed consistently two months before 'Goldsturm' and continued to bloom two months longer as well. It exhibits all of the other notable qualities of 'Goldsturm' including golden yellow, daisy-like flowers with a brown cone and a sturdy, upright habit. A must-have perennial in Georgia gardens! Plant File
---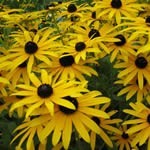 'Goldsturm' - Wilson Bros Landscape has been installing this reliable, most-hardy variety for decades in almost every landscape it designs. The oldest of cultivars, "Goldsturm" was introduced in 1949 in Germany. The name translates to "gold storm"...and it does produce a literal storm of bright folden flowers with black ventral cones. The plant blooms for seven to eight weeks beginning in midsummer. "Goldsturm" reaches 18 to 30 inches tall and will self-sow seeds to form quite large patches in the landscape or garden. Plant File
---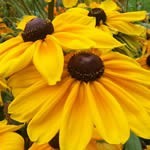 'Indian Summer' - An All America Society award winner, 'Indian Summer' is a standout among a sea of Black-eyed Susans because of its extra-large, golden-yellow black-eyed flowerheads that span up to 9 inches across! It will bloom from early summer into fall on a bushy, upright plant. Butterflies are drawn to the showy flowers during it's long bloom period from early summer into fall. The species is native to the central U.S. Seed heads provide winter interest and can be used in dried flower arrangements. Dried seed heads attract birds. Great in gardens and mixed containers. Plant File
---
Rudbeckia Culture & Care
Rudbeckia daisies grow best in full sun to part shade in soil that drains well and is moderately moist. The plants can tolerate heavy clay (though we recommend garden beds with compost for best reseeding) and are drought-resistant once established.
While some varieties of Rudbeckia, such as 'Goldsturm' are long-lived perennials, others may live a a couple seasons, though are reliable reseeders if the seasons last blooms are left on the plant until seeds drop.
Deadheading (removing spent flowers) will encourage more flowers and extend the flowering season.
Don't forget to...
SEE YOU AT THE NURSERY!
The Staff at Wilson Bros
Call Us! 770-954-9862
Email Us: wbnursery@gmail.com
HOURS OF BUSINESS: Mon-Fri: 8am-6pm / Sat: 8am-5pm / Sun: 10pm-5pm
---