Map to Wilson Bros Nursery at the bottom of this page - CALL US! (770) 954-9862
---


---
A little about Wilson Bros...
Since opening in 1989, Wilson Bros Nursery & Garden Center has grown from its original size of 1.5 acres to about 5 acres in size. With acres of flowers, shrubs, trees, perennials, and herbs, Wilson Bros Nursery has everything you need to create a garden masterpiece. Everywhere you look, another exciting color, texture, or fragrance triggers your senses. And when inspiration strikes, our friendly and knowledgeable staff can help you find the best plants for your home's terrain, as well as the supplies you need to bring your visions to life. Our landscaping division, Wilson Bros Landscape specializes in site sensitive landscape design and installation using plants, structures and other materials that fit perfectly in the Atlanta Metro area environment.
---
Last updated on: 6/12/2015
---
Read this week's Wilson Bros Nursery Newsletter
---
Featured Plant of the Week!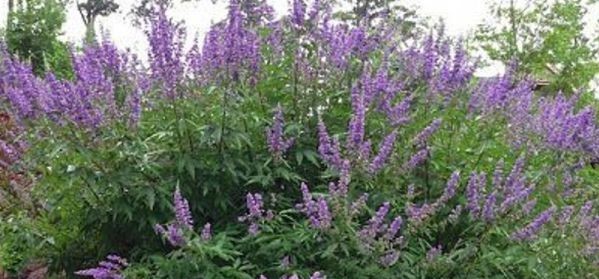 Height: 15-20'
Width: 15-20'
Sun Exposure: Full to mostly sun
USDA Zones: 6-9
Resistances: Deer, Drought, Insect, Heat, Humidity
Buy Online
DESCRIPTION
This stunning tree that is called the "Sage Tree" by some gardeners because the striking, pretty spikes of violet-blue flowers resemble that of sages (salvias). It produces an abundance of flowers starting in June. If the spent flowers are sheared off you can expect another good flush of flowers in late summer or fall. When it blooms, many mistake this tree for butterfly bush because of its long, cone-shaped flower clusters. The Chaste Tree quickly grows into a multi- or single-trunk tree to about 15 to 20 feet tall with an equal spread. The foliage is pleasantly aromatic and the very attractive palmate, finger-like, grey-green leaves bear a striking resemblance to the leaves of the marijuana plant. The flowers of the Chaste Tree are very attractive to hummingbirds and pollinating bees. If the spent flowers are left on the tree in fall, seeds will form that provide a free source of food for Cardinals and other birds.
USES
The Chaste Tree can be used as a stand alone specimen, in groupings, or in rows in landscape beds, medians, or foundation plantings. Can also be useful for espalier against a tall, open wall or as a natural hedge or screen.
MORE INFO Get more info on the Chaste Tree here
AVAILABILITY
Chaste Tree is now available at the nursery and in our online store.
Now that we are shipping our plants nation-wide, you can send them to your friends almost anywhere in the United States via our online store! (except for CA, HA, and AK.)
---
DON'T FORGET TO...
---
Check out this week's Wilson Bros Newsletter
[Check out this week's Sales & Specials
Enter to win this months $250 Shopping Spree!
Sign up to win the next step of the Wilson Bros DIY Lawn Care Program!
Shop our online store: GardenerDirect.com
Check out this week's FREEBIE COUPON below
Know that at Wilson Bros we are all about providing you with knowledge you can count on and highest quality plants and products at the best prices. We're always at your service!
SEE YOU AT THE NURSERY!
The Staff at Wilson Bros
Call Us! 770-954-9862
Email Us: wbnursery@gmail.com
HOURS OF BUSINESS: Mon-Fri: 8am-6pm / Sat: 8am-5pm / Sun: 10pm-5pm
---