Map to Wilson Bros Nursery at the bottom of this page - CALL US! (770) 954-9862
---

---
A little about Wilson Bros...
Since opening in 1989, Wilson Bros Nursery & Garden Center has grown from its original size of 1.5 acres to about 5 acres in size. With acres of flowers, shrubs, trees, perennials, and herbs, Wilson Bros Nursery has everything you need to create a garden masterpiece. Everywhere you look, another exciting color, texture, or fragrance triggers your senses. And when inspiration strikes, our friendly and knowledgeable staff can help you find the best plants for your home's terrain, as well as the supplies you need to bring your visions to life. Our landscaping divison, WIlson Bros Landscape specializes in site sensitive landscape design and installation using plants, structures and other materials that fit perfectly in the Atlanta Metro area environment.
Wilson Bros Nursery is now hiring!
Wilson Bros Nursery is now hiring for full and part time positions. First and foremost, we're looking for a few folks who have a genuine interest in plants. Some knowledge of and experience with plants would be appreciated, however is not absolutely necessary. Tasks might include the following: watering and general plant care, unloading and loading plants and products, and assisting customers.
---
Last updated on: 3/20/2015
---
Get important tips and reminders in this week's Wilson Bros Nursery Newsletter >
---
HI FOLKS!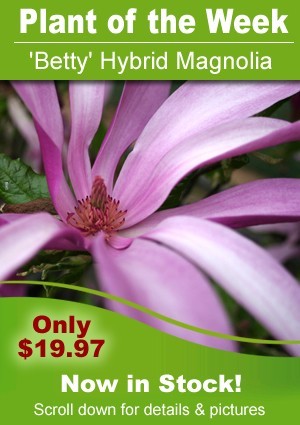 We've been paying close attention to weather forecasts and are still seeing some temperatures below 40 at night in thye 10-Day. This means it's still NOT safe to plant most vegetables and annual flowers outdoors in garden beds. That being said, this weekend you'll find some beautiful geraniums, gerbera daisies, marigolds, tomato plants and other flowers and vegetable plants that will handle some cooler temperatures. We'd still advise planting these in containers so you can move them indoors in the event of a frost, or when temperatures drop below 45 degrees at night.
So you won't find too many annual flowers and veggie plants at Wilson Bros just yet, but you'll find some absolutely beautiful spring flowering perennials, shrubs and trees, such as this week's Plant of the Week, the 'Betty' Hybrid Magnolia, pictured right. Scroll down to get the details on this magnificent, spring-flowering beauty.
We were about wiped out last weekend on many of our fruit trees and berry plants but are fully stocked up again. That being said, we'll be a little low on blackberry and raspberry bushes this week, but will have more of these in next week.
Know that if you need help with landscape design ideas our staff is always there to help you out. If you've got a large landscape project involving a large area, and you need some design help, contact Wilson Bros Landscape. Visit our website to find out more about the landscaping services we offer and to find the various ways you can contact us.
Want to send Wilson Bros plants to friends almost anywhere in the USA? You can now do so from our webstore: GardenerDirect.com
SEE YOU AT THE NURSERY!
The Staff at Wilson Bros
Call Us! 770-954-9862
Email Us: wbnursery@gmail.com
HOURS OF BUSINESS: Mon-Fri: 8am-6pm / Sat: 8am-5pm / Sun: 10pm-5pm
---