Map to Wilson Bros Nursery at the bottom of this page - CALL US! (770) 954-9862
---


---
A little about Wilson Bros...
Since opening in 1989, Wilson Bros Nursery & Garden Center has grown from its original size of 1.5 acres to about 5 acres in size. With acres of flowers, shrubs, trees, perennials, and herbs, Wilson Bros Nursery has everything you need to create a garden masterpiece. Everywhere you look, another exciting color, texture, or fragrance triggers your senses. And when inspiration strikes, our friendly and knowledgeable staff can help you find the best plants for your home's terrain, as well as the supplies you need to bring your visions to life. Our landscaping divison, WIlson Bros Landscape specializes in site sensitive landscape design and installation using plants, structures and other materials that fit perfectly in the Atlanta Metro area environment.
---
Last updated on: 5/01/2015
---
Get important tips and reminders in this week's Wilson Bros Nursery Newsletter >
---
HI FOLKS!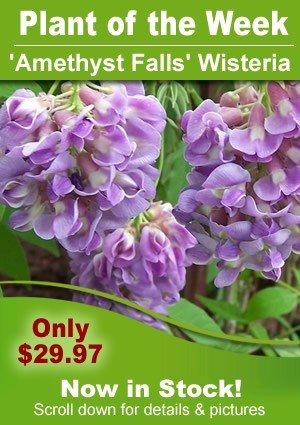 Finally...we have a 10-Day weather forecast with no rain in it - yippee! Rain is a good thing, but after having so much over the past few months a 10-day break will be much appreciated...not only by we gardeners, but also by plants, which are loving all the sunshine. Many flowering plants are blooming a little later than normal this year, such as the Amethyst Falls Wisteria we have growing on a pergola in our gardens. As of last week, a few types of perennial plants such as lantana, hardy elephant ears, hardy hibiscus and Muhly grass had yet to emerge from dormancy , but this week they were starting to put out some new growth. We were excitied to see that these didn't succumb to the 13 degree temps and saturated soil we had in mid-Georgia over the winter months. All things considered, we only lost a handful out of the thousands of plants growing in our gardens. It's always sad to lose a few plants, but the way we look at it, that just means we have a few new spots to fill in with some some exciting new varieties!
If you're a bargain hunter, check out what's on special right now at Wilson Bros Nursery.
Know that at Wilson Bros we are all about providing you with knowledge you can count on and highest quality plants at the best prices. We're always at your service!
Spring is now in full swing and that means we have more than usual to talk about. So, check out this week's Wilson Bros Nursery Newsletter to see what we're doing in the Wilson Bros gardens, which is what you might want or need to be doing in your own gardens. Also see great pictures of what's blooming right now in the Wilson Bros gardens and learn more about 'Chef's Choice' Rosemary, a new Southern Living Plant Collection release that serves both ornamentally in the landscape and in cooking.
Don't forget to scroll down this page to check out our FREEBIE of the WEEK COUPON you can use to get a FREE Red Cascade Rose and a FREE Quart-size Petunia!
IMPORTANT REMINDER!
Bermuda, Centipede, St Augustine and Zoysia lawns are now greening up and for those of you on a Wilson Bros DIY Lawn Care Program that means it's time for STEP 2: Application of Lebanon ProScape 18-0-4 Fertilizer with Weed Preventer. This is a very important step because it not only gives your lawn the spring boost it needs after a long winter dormancy with a slow-release golf course grade turf fertilizer, it also contains a powerful weed preventer that will prevent crabgrass and many other types of spring weeds from sprouting in your lawn.
If you're not on a program and want to check them out click here. If you're on a program and would like to enter a chance to win Step 3 for free click here.
SAVE $$$ - Lebanon ProScape golf course grade fertilizers are about $15 a bag cheaper than Scotts fertilizers and about half the price you'd pay for a lawn care service!
Want to send Wilson Bros plants to friends almost anywhere in the USA? You can now do so from our webstore: GardenerDirect.com
SEE YOU AT THE NURSERY!
The Staff at Wilson Bros
Call Us! 770-954-9862
Email Us: wbnursery@gmail.com
HOURS OF BUSINESS: Mon-Fri: 8am-6pm / Sat: 8am-5pm / Sun: 10pm-5pm
---