Map to Wilson Bros Nursery at the bottom of this page - CALL US! (770) 954-9862
---


---
A little about Wilson Bros...
Since opening in 1989, Wilson Bros Nursery & Garden Center has grown from its original size of 1.5 acres to about 5 acres in size. With acres of flowers, shrubs, trees, perennials, and herbs, Wilson Bros Nursery has everything you need to create a garden masterpiece. Everywhere you look, another exciting color, texture, or fragrance triggers your senses. And when inspiration strikes, our friendly and knowledgeable staff can help you find the best plants for your home's terrain, as well as the supplies you need to bring your visions to life. Our landscaping divison, WIlson Bros Landscape specializes in site sensitive landscape design and installation using plants, structures and other materials that fit perfectly in the Atlanta Metro area environment.
---
Last updated on: 3/27/2015
---
Get important tips and reminders in this week's Wilson Bros Nursery Newsletter >
---
HI FOLKS!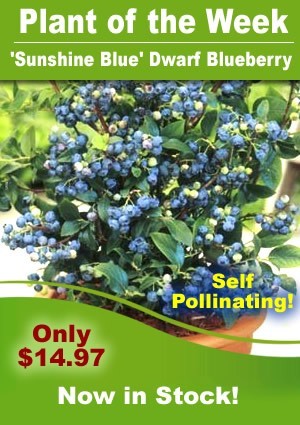 We've been warning everyone over the past few weeks that even though the box stores have been selling annual flowers and vegetable plants for weeks now that it was too early to plant these tender plants outdoors in garden beds. Based on 35 years experience in the landscaping and nursery business, we know too well how there's always a good possibility for a late frost from the end of March even through the middle of April, which can kill or seriously damage warm season annual and vegetable plants.
So we've checked out the 10-Day weather forecast and, sure enough, as is usual this time of year, we're seeing some nighttime temperatures in the high 20s to low 30's on Saturday (3/28) and Sunday (4/28) mornings, which most likely means a frost, and consequential damage to any annual or vegetable plants that were planted outdoors over the past few weeks. If you planted in the ground too early, the best thing you can do is maybe try to cover these plants with a blanket, or white plastic. Make sure to uncover them when temperatures go above 45 degrees or so during the day. Then say a prayer and remind yourself not to do it again next year, no matter what the box stores are saying or doing! The best thing you can do is stay tuned to our newsletter and we'll let you know when it's safe to plant.
All this being said, you'll find a small selection of the most cold-tolerant annuals and some vegetable plants at Wilson Bros Nursery this weekend, but we're still heavily advising to plant these only in pots, which can be brought indoors in the event of another late frost.
Now, when it comes to planting shrubs, trees, fruit plants and trees and perennial plants you couldn't pick a better time than now to plant, and we've got loads of these ready for planting!
When is it really safe to plant annual and warm season vegetable plants outdoors? Because the weather is up to Mother Nature, and forecasters aren't real accurate beyond a week or so in their predictions, there's no solid answer to that question. What we do at the nursery is watch the 10-Day forecast. If on April 1st the 10-Day shows no nighttime temperatures below about 40 degrees we'll start pulling lots of annuals and vegetable plants in from the greenhouses, where they've been steadily growing in a nice and warm environment over the past couple months:-)
Want to send Wilson Bros plants to friends almost anywhere in the USA? You can now do so from our webstore: GardenerDirect.com
SEE YOU AT THE NURSERY!
The Staff at Wilson Bros
Call Us! 770-954-9862
Email Us: wbnursery@gmail.com
HOURS OF BUSINESS: Mon-Fri: 8am-6pm / Sat: 8am-5pm / Sun: 10pm-5pm
---