Map to Wilson Bros Nursery at the bottom of this page - CALL US! (770) 954-9862
---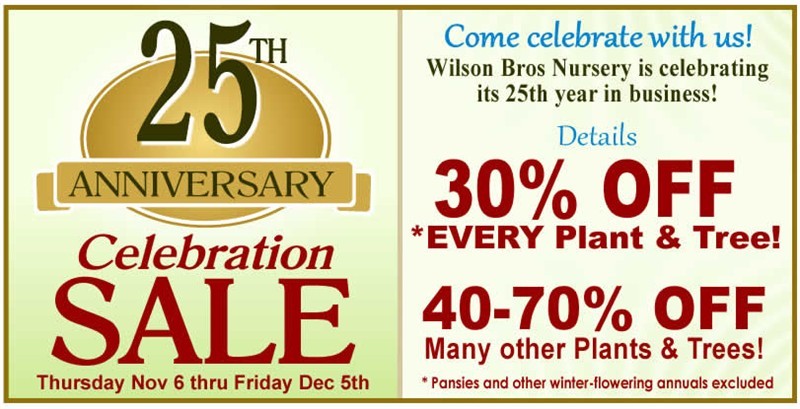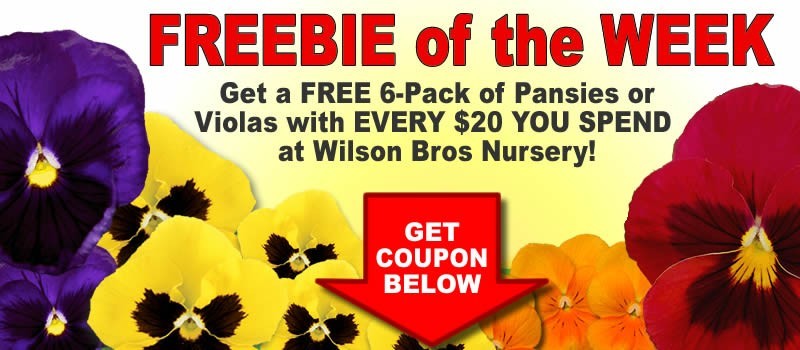 A little about Wilson Bros...
Since opening in 1989, Wilson Bros Nursery & Garden Center has grown from its original size of 1.5 acres to about 5 acres in size. With acres of flowers, shrubs, trees, perennials, and herbs, Wilson Bros Nursery has everything you need to create a garden masterpiece. Everywhere you look, another exciting color, texture, or fragrance triggers your senses. And when inspiration strikes, our friendly and knowledgeable staff can help you find the best plants for your home's terrain, as well as the supplies you need to bring your visions to life. Our landscaping divison, WIlson Bros Landscape specializes in site sensitive landscape design and installation using plants, structures and other materials that fit perfectly in the Atlanta Metro area environment.
---
Last updated on: 11/26/2014
Click here to see this week's Wilson Bros Newsletter >>
Click here to see last week's newsletter >>
Hi Folks
Black Friday season is getting into full swing at retailers all over the country. But we think just one day of incredible savings isn't enough, so Wilson Bros is holding a week long Black Friday sale...and we're calling it the "Green Friday to Friday Sale." Since our 25th Anniversary Sale will still be going on, during the Green Friday to Friday Sale we're offering an extra 10% off the already deeply discounted prices. That's right; you can get Black Friday-worthy deals a whole week after the big day itself. The Green Friday Sale starts at opening time on Friday after Thanksgiving and ends on Friday, December 5 at closing time. So, make a point to drop by Wilson Bros and take advantage of this great deal.
With the cool season upon us it's a great time to plant all types of hardy ornamental and flowering shrubs and trees. So, because winter is a great time for planting in the Georgia, and with our combo sale going on, it's a great time to buy shrubs and trees to give as gifts to family and friends.
If you can't decide what kind of tree or shrub to buy as a gift, Wilson Bros has gift cards you can purchase for all your plant-loving friends. Here's another sweet deal we'll be running during the Holiday Season: For any and every Wilson Bros Nursery Gift Card you purchase in the amount of $100 or more you get a FREE $10 gift card you can give to someone else...or yourself!

Is it too cold to plant?
No!!! At one time or another, most everyone has heard the saying "Fall is for Planting", and it's true! In addition to planting pansies, garden mums and other perennials, fall, and in fact the entire winter, is a great time to plant trees and shrubs in the landscape. Contrary to popular belief, it may be the best planting season, surpassing even the spring!
Many people prefer planting shrubs and trees in the spring, which is a good time for planting, however, planting during the fall and winter months offers distinct advantages. Shrubs and trees planted during the cool season use it to good advantage. Plant roots grow anytime the soil temperature is 40 degrees or higher, which may occur all winter in areas of the South. So, during the fall and winter months the root systems develop and become established. Then, when spring arrives, this expanded root system can support and take advantage of the full surge of spring growth.
DON'T FORGET TO...
SEE YOU AT THE NURSERY!
The Staff at Wilson Bros
Call Us! 770-954-9862
Email Us: wbnursery@gmail.com
HOURS OF BUSINESS: Mon-Fri: 8am-6pm / Sat: 8am-5pm / Sun: 10pm-5pm
---