Map to Wilson Bros Nursery at the bottom of this page - CALL US! (770) 954-9862
---


---
A little about Wilson Bros...
Since opening in 1989, Wilson Bros Nursery & Garden Center has grown from its original size of 1.5 acres to about 5 acres in size. With acres of flowers, shrubs, trees, perennials, and herbs, Wilson Bros Nursery has everything you need to create a garden masterpiece. Everywhere you look, another exciting color, texture, or fragrance triggers your senses. And when inspiration strikes, our friendly and knowledgeable staff can help you find the best plants for your home's terrain, as well as the supplies you need to bring your visions to life. Our landscaping divison, WIlson Bros Landscape specializes in site sensitive landscape design and installation using plants, structures and other materials that fit perfectly in the Atlanta Metro area environment.
---
Last updated on: 5/15/2015
---
Get important tips and reminders in this week's Wilson Bros Nursery Newsletter >
---
HI FOLKS!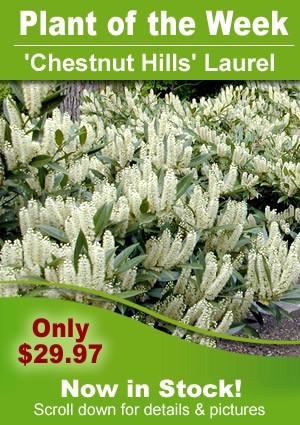 Well, it's been warming up at the Nursery. This means that we've been spending more time keeping the plants quenched … so they are healthy and happy … just the way we gardeners love our plants.
It's a great time for planting so when rain comes your plants will be ready for the showers. So y'all come on down to the Nursery or visit us on Gardener Direct for lots of beautiful trees, shrubs, perennial and annual flowers, herbs and veggies. If you have joined the growing numbers of gardeners who are planting their own organic herbs and vegetables, check us out - we have a good selection of organic vegetables and herbs at the Nursery. Come on in and get 'em while we got 'em.
And to help you enjoy the fruits of your labor of love as the temps rise, we are re-issuing last edition's tips on the best way to water your new plants and landscape. You'll find more on that in our May 15th edition of the Wilson Bros Nursery Newsletter.
Check out this week's Wilson Bros Newsletter
Check out this week's Sales & Specials >
Don't forget to enter to win this months $250 Shopping Spree!
Sign up to win the next step of the Wilson Bros DIY Lawn Care Program!
Shop our online store: GardenerDirect.com
Check out this week's FREEBIE COUPON below to get a free Daylily plant and a free Gardenia!
Know that at Wilson Bros we are all about providing you with knowledge you can count on and highest quality plants at the best prices. We're always at your service!
SEE YOU AT THE NURSERY!
The Staff at Wilson Bros
Call Us! 770-954-9862
Email Us: wbnursery@gmail.com
HOURS OF BUSINESS: Mon-Fri: 8am-6pm / Sat: 8am-5pm / Sun: 10pm-5pm
---