Map to Wilson Bros Nursery at the bottom of this page - CALL US! (770) 954-9862
---


---
A little about Wilson Bros...
Since opening in 1989, Wilson Bros Nursery & Garden Center has grown from its original size of 1.5 acres to about 5 acres in size. With acres of flowers, shrubs, trees, perennials, and herbs, Wilson Bros Nursery has everything you need to create a garden masterpiece. Everywhere you look, another exciting color, texture, or fragrance triggers your senses. And when inspiration strikes, our friendly and knowledgeable staff can help you find the best plants for your home's terrain, as well as the supplies you need to bring your visions to life. Our landscaping division, Wilson Bros Landscape specializes in site sensitive landscape design and installation using plants, structures and other materials that fit perfectly in the Atlanta Metro area environment.
---
Last updated on: 7/03/2015
---
Read this week's Wilson Bros Nursery Newsletter
---
July 4th Signals it's Time To Prune Mums...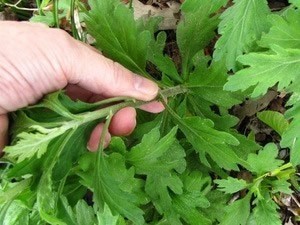 Why are we talking about Fall Garden Mums in July? Read on to find out...
Ever wonder why during the following year in the garden the garden mums you purchased at your local nursery and planted in fall grow more leggy in your garden the following year rather than dense and compact as they were when you first bought them? There's a reason. Commercial growers of mums pinch plants back several times during spring into early summer. But weft to grow naturally in your garden, many varieties of garden mums become leggy by summer and will even start to produce flowers, which you don't want to let them do. Why? Because the flowers of garden mums will quickly fade and die in the heat of summer. This is because they prefer cooler temperatures and will hold their flowers for much, much lo nger during the cooler temperatures in fall.
Why pinch back mums?
Mums sprout in early spring and then start to grow in a bush-like fashion, sometimes. However, depending on weather and the environment, if left un-pruned, as mentioned, some varieties will grow quite tall and leggy and start blooming way too early. When this happens the weight of the flowers and leaves on the stems will often cause the branches to fall over. To prevent this from happening and to maintain a compact shape with more branching, you can pinch mums back starting in early spring and continuing into mid-summer arounf the 4th of July.
NOTE: You don't have to pinch or prune mums at all. If you choose not to prune you might only get a short bloom period in summer and it might be necessary to use plant supports to keep leggy stems from flopping over throughout the season.
Click here to find expert tips on pruning gardening mums
---
DON'T FORGET TO...
---
Check out this week's Wilson Bros Newsletter
[Check out this week's Sales & Specials
Enter to win this months $250 Shopping Spree!
Sign up to win the next step of the Wilson Bros DIY Lawn Care Program!
Shop our online store: GardenerDirect.com
Check out this week's FREEBIE COUPON below
Know that at Wilson Bros we are all about providing you with knowledge you can count on and highest quality plants and products at the best prices. We're always at your service!
SEE YOU AT THE NURSERY!
The Staff at Wilson Bros
Call Us! 770-954-9862
Email Us: wbnursery@gmail.com
HOURS OF BUSINESS: Mon-Fri: 8am-6pm / Sat: 8am-5pm / Sun: 10pm-5pm
---