Shop: Aquatics I Bamboo I Fruit I Grasses I Groundcovers I Herbs I Japanese Maples I Perennials I Roses I Shrubs I Trees I Vines
---
Welcome to Gardener Direct!...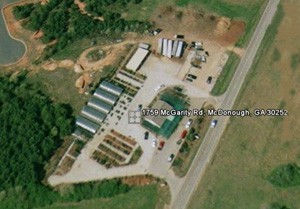 We are a certified Georgia nursery since 1989 and we are plant experts! Choose from our great selection of plants and we'll carefully pack and ship them directly to your door. You'll find over 2,000 varieties of shrubs, trees, perennials, groundcovers, and other plants in our online store and our variety list is always growing! Each plant page in GardenerDirect.com has a detailed plant description along with planting and care tips written by one of our experts.
What Sets GardenerDirect.com Apart?
We've been asked by a lot of people how we've grown so quickly online, and the answer is actually really simple...We've aligned the entire organization around one mission: to provide the highest quality and largest size plants and the best customer service at the best price possible. Compliments (as well as complaints) from our customers are considered treasures here at Gardener Direct. We're always listening with open and attentive ears and we guarantee the highest quality products and safe shipping with 30-day returns is absolutely guaranteed. We make it safe and easy to buy plants online and are here and ready 24/7 to provide assistance and answer any of your questions.
Call Us: 405-227-9888
Visit GardenerDirect.com
Here's just a smidgen of what we offer...
---
Encore Azaleas
Gardener Direct offers all 29 varieties of Encore© Azaleas. Unlike other azaleas that just bloom one time a year Encore Azaleas bloom spring , summer and fall. So, if you adore spring blooming azaleas you can now enjoy an explosion of Encore Azalea color season after season.
See the Encore Azalea Collection
---
Southern Living Plant Collection
First introduced in Spring 2008, the Southern Living® Plant Collection provides gardeners with innovative new plants designed to solve specific landscape challenges and to excel in Southern gardens all the way across the United States. Each plant in the collection is the result of years of plant evaluations, plant trials and research.
See the Southern Living Plant Collection
---
Japanese Maple Collection
Gardener Direct currently offers over 150 outstanding and unique varieties of Japanese Maple. We are testing and adding new varieties every year. Our maples are expertly container-grown from grafts with the utmost care. Each variety of Japanese maple listed in our store has been field-tested in our trial gardens here in mid-Georgia to determine tolerances, preferences and overall performance. This way you can rely on the information we provide on every Japanese maple we grow!
See the Japanese Maple Collection
---
Bamboo Collection
Everybody longs for that one of a kind yard or garden that reflects their creative personality. There's no better species of plants than bamboo to do that! With species ranging from 12" to over 75' in height and in a variety of colors, Gardener Direct offers varieties you can use to create a clump, privacy screen, groundcover or even a giant forest! Contrary to popular belief, all bamboo are easy to control.
---
Fruit Trees & Plants
Gardener Direct offers a unique selection of fruit trees and plants and we are continually adding new varieties to our inventory. Our fruit bearing trees, shrubs, berries and vines are grown in containers, assuring you will get a healthy plant with a full root system that is ready to plant upon arrival. Many of the varieties we offer, such as our extensive collection opf blueberries, are great for use in the ornamental, edible landscape.
---
Groundcover Plants
Need to replace the need for so much mulch...or fill those gaps between stepping stones or pavers...or cover an embankment? Groundcover plants are what you need and Gardener Direct has got hundreds of varieties to meet any requirements! All of our groundcover plants are grown in containers, assuring you will get a healthy plant with a full root system that is ready to plant and grow upon arrival.
---
Browse all our plants by category...
Aquatics I Bamboo I Fruit I Grasses I Groundcovers I Herbs I Japanese Maples I Perennials I Roses I Shrubs I Trees I Vines