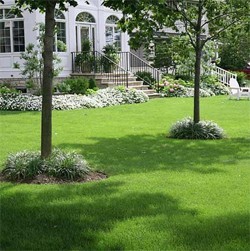 Welcome to Songbird Landcare! We are based in McDonough, Georgia and offer Tree, Shrub & Lawn Care services, Arborist services, and Invasive Plant Control services.
Songbird Landcare lawn, tree and shrub programs are centered upon an understanding of plant and soil science, as well as use of current technology.
Science has trended toward managing landscapes for sustainability, using products and performing services that reduce requirements of irrigation applications and chemical inputs. By staying "up to date" with technology, we provide quality landscape care using environmentally conscious methods.
Tree, Shrub & Lawn Care services, as well as Arborist services, are offered to areas South & Southeast of Atlanta's perimeter. Invasive Plant Control services are offered to areas within a fifty mile range of McDonough, Georgia.
Songbird Landcare was founded in October 2011 by Brian Arnold after twenty-five years in the Tree, Shrub & Lawn Care Industry. Through those years, his appreciation for certain practices popularly referred to as "organic", has grown. Those practices are combined with modern synthetic products and practices in such a way as to provide effective treatment in a sustainable and environment conscious way.
Request A Free Quote From Songbird Landcare
If you are interested in receiving a quote for Lawn, Shrub or Tree care services fill out the form below and Songbird Landcare will contact you promptly.