The Wilson Bros Top Shrub Selections were chosen based on the following attributes and criteria:
Hardiness, dependability and longevity
Easy to grow: high survivability rate
Easy to care for: Low maintenance
Aesthetical value provided
Monetary value added to your property
And, last but not least: Availability!
NOTE: When at the nursery, just look for the gold Wilson Bros Top Selection signs - they're easy to see!
Shrubs
Make sure to add these shrubs to your Gardenality Gardens!
FOR SUN to MOSTLY SUN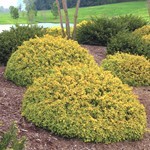 Kaleidoscope Abelia - Abelia grandiflora 'Kaleidoscope' (pictured top right)
Lemons & Lime Abelia - Abelia grandiflora 'Lemons & Lime'
Rose Creek Abelia - Abelia grandiflora 'Rose Creek'
Degroots Spire Arborvitae - Thuja occidentalis 'Degroots Spire'
Globe Arborvitae - Thuja occidentalis 'Woodwardii'
Encore Azaleas - Rhododendron
Southern Indica Azalea - Rhododendron indica 'George Tabor'
Wintergreen Boxwood - Buxis 'Wintergreen'
Blue Chip Butterfly Bush - Buddleia davidii 'Blue Chip'
LeAnn Cleyera - Cleyera japonica 'LeAnn'
Pocomoke Crape Myrtle - Lagerstroemia indica ' Pocomoke'
Cherry Dazzle Crape Myrtle - Lagerstroemia indica ' Cherry Dazzle' (pictured right)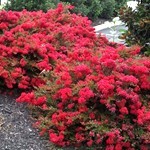 Global Dwarf Cryptomeria - Cryptomeria japonica 'Globosa Nana'
Gold Mop Cypress - Chameaecyparis pisifera 'Gold Mop'
Bordeaux Dwarf Yaupon Holly - Ilex vomitoria 'Bordeaux'
Carissa Holly - Ilex cornuta 'Carissa'
Sky Pencil Holly - Ilex crenata 'Sky Pencil'
Soft Touch Holly - Ilex crenata 'Soft Touch'
Snow White Indian Hawthorne - Rhaphiolepis indica 'Snow White'
Eleanor Tabor Indian Hawthorne - Rhaphiolepis indica 'Eleanor Tabor'
Grey Owl Juniper - Juniperus virginiana 'Grey Owl'
Emerald Snow Loropetalum - Loropetalum chinensis 'Emerald Snow'
Plum Delight Loropetalum - Loropetalum chinensis 'Plum Delight'
Purple Diamond Loropetalum - Loropetalum chinensis 'Purple Diamond'
Purple Pixie Loropetalum - Loropetalum chinensis 'Purple Pixie' (pictured right)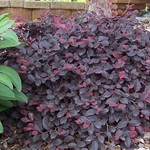 Zhuzhou Loropetalum - Loropetalum chinensis 'ZhoZhou'
Flirt Nandina - Nandina domestica 'Flirt'
Harbour Dwarf Nandina - Nandina domestica 'Harbour Dwarf'
Obsession Nandina - Nandina domestica 'Obsession'
Mojo Dwarf Variegated Pittosporum - Pittosporum tobira 'Mojo'
Chinese Snowball Viburnum - Viburnum macrocephalum
Color Guard Yucca - Yucca filamentosa
FOR SHADE or PART SHADE
Gold Dust Aucuba - Aucuba japonica 'Gold Dust'
Mine No Yuki Camellia - Camellia sasanqua 'Mine No Yuki'
Shi Shi Gashira Camellia - Camellia sasanqua 'Shi Shi Gashira'
Sparkling Burgundy Camellia - Camellia sasanqua 'Sparkling Burgundy'
Yuletide Camellia - Camellia sasanqua 'Yuletide'
Endless Summer Hydrangea - Hydrangea macrophylla 'Endless Summer' (pictured right)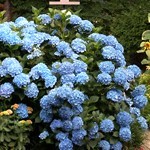 Limelight Hydrangea - Hydrangea paniculata 'Limelight'
Oakleaf Hydrangea - Hydrangea quercifolia
Soft Caress Mahonia - Mahonia eurybracteata 'Soft Caress'
Leatherleaf Mahonia - Mahonia bealei
Creeping Yew - Cephalotaxus harringtonia 'Prostrata'
Southgate Rhododendron - Rhododendron
Yewtopia Plum Yew - Cephalotaxus 'Yewtopia'
Ornamental Grasses for Full Sun
Adagio Dwarf Maiden Grass - Miscanthus sinensis 'Adagio'
Maiden Grass - Miscanthus sinensis 'Gracillimus'
Muhly Grass - Muhlenbergia capillaris (pictured right)