Based on extensive experience in the field and in the Wilson Bros Nursery Trial Gardens since 1982, Wilson Bros Nursery & Wilson Bros Landscape has compiled a list of the best of the best "must have" trees for Georgia landscapes and gardens.
The Wilson Bros Top Tree Selections were chosen based on the following attributes and criteria:
Hardiness, dependability and longevity
Easy to grow: high survivability rate
Easy to care for: Low maintenance
Aesthetical value provided
Monetary value added to your property
And, last but not least: Availability!
NOTE: When at the nursery, just look for the gold Wilson Bros Top Selection signs - they're easy to see!
Trees
FLOWERING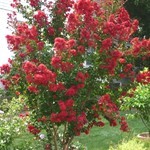 Chaste Tree - Vitex agnus-castus 'Shoal Creek'
Autumn Flowering Cherry - Prunus subhirtella 'Autumnalis'
Okame Flowering Cherry - Prunus x 'Okame'
Snow Goose Flowering Cherry - Prunus x 'Snowgoose'
Acoma Crape Myrtle - Lagerstroemia indica x fauriei 'Acoma'
Delta Jazz Crape Myrtle - Lagerstroemia indica 'Delta Jazz'
Dynamite Crape Myrtle - Lagerstroemia indica 'Dynamite' (pictured top right)
Natchez Crape Myrtle - Lagerstroemia indica x fauriei 'Natchez'
Muskogee Crape Myrtle - Lagerstroemia indica x fauriei 'Muskogee'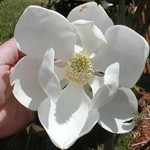 Sioux Crape Myrtle - Lagerstroemia indica x fauriei 'Sioux'
Little Gem Magnolia - Magnolia grandiflora 'Little Gem'
Eastern Redbud - Cercis canadensis
Rising Sun Redbud - Cercis canadensis 'Rising Sun'
NON-FLOWERING
Riverbirch - Betula nigra
Autumn Blaze Maple - Acer freemanii 'Autumn Blaze'
Brandywine Maple - Acer rubrum 'Brandywine'
October Glory Maple - Acer rubrum 'October Glory'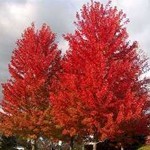 Summer Red Maple - Acer rubrum 'Summer Red' (pictured right)
Trident Maple - Acer buergerianum
Nuttall Oak - Quercus texana
Bald Cypress - Taxodium distichum
Silver Smoke Cypress - Cupressus glabra 'Silver Smoke'
Blue Ice Cypress - Cupressus glabra 'Blue Ice' (pictured right)
Ginkgo - Ginkgo biloba
Liberty Holly - Ilex x 'Liberty'
Mary Nell Holly - Ilex x 'Mary Nell'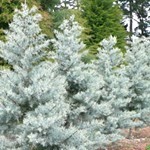 Weeping Yaupon Holly - Ilex vomitoria 'Pendula'
Windmill Palm - Trachycarpus fortunei
Japanese Maples - Acer palmuatum
UPRIGHTS
Hefner's Red (pictured right)
Dwarf Coral Bark / 'Fjellheim'
Coral Bark / 'Sango Kaku'
Golden Bark / 'Bihou'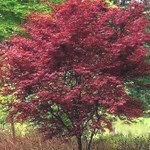 MOUNDING LACELEAFS
Red Dragon
Tamukeyama
Viridis