Based on extensive experience in the field and in the Wilson Bros Nursery Trial Gardens since 1982, Wilson Bros Nursery & Wilson Bros Landscape has compiled a list of the best of the best "must have" perennial plants and roses for Georgia landscapes and gardens.
The Wilson Bros Top Perennial Plant & Rose Selections were chosen based on the following attributes and criteria:
Hardiness, dependability and longevity
Easy to grow: high survivability rate
Easy to care for: Low maintenance
Aesthetical value provided
Monetary value added to your property
And, last but not least: Availability!
NOTE: When at the nursery, just look for the gold Wilson Bros Top Selection signs - they're easy to see!
---
PERENNIALS
---
SUN or MOSTLY SUN

Powis Castle Artemisia - Artemisia
Bengal Tiger Canna Lily - Canna generalis 'Pretoria'
Diamond Head Elephant Ear - Colocasia esculenta (pictured right middle)
Purple Hardy Ice Plant - Delosperma cooperi
Hardy Garden Mums - Dendranthema
Hummingbird Plant - Dicliptera suberecta
Stella De Oro Daylily - Hemerocallis
Caesar's Brother Siberian Iris - Iris sibirica
Blue Arrows Rush Grass - Juncus inflexus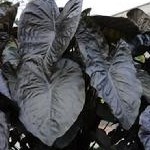 Chapel Hill Gold Hardy Lantana - Lantana
Chapel Hill Yellow Hardy Lantana - Lantana
Miss Huff Hardy Lantana - Lantana
Sonset Hardy Lantana - Lantana (pictured bottom right)
Trailing Lavender Lantana - Lantana montevidensis
Becky Daisy - Leucanthemum superbum
Goldsturm Black Eyed Susan Daisy - Rudbeckia fulgida (pictured to right)
Purple Showers Mexican Petunia - Ruella tweediana
Black & Blue Salvia (Blue Anise Sage) - Salvia guaranitica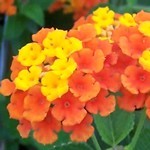 Hot Lips Salvia - Salvia x jamensis
Butterfly Blue Pincushion Flower - Scabiosa columbaria
Hen & Chicks - Sempervivum
Lambs Ear - Stachys byzantina
SHADE OR PART SHADE (AM SUN)
Golden Sweet Flag - Acorus gramineus 'Ogon'
Cast Iron Plant - Aspidistra
Ghost Fern - Athyrium hybrid
Japanese Painted Fern - Athyrium niponicum var. pictum 'Pictum'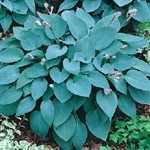 Autumn Fern - Dryopteris erythrosora
Creeping Fig - Ficus pumila
Lenten Rose - Helleborus
Villosa Hybrid Coral Bells - Heuchera villosa hybrids
Patriot Variegated Hosta Lily - Hosta
Sum and Substance Golden Hosta Lily - Hosta
Halcyon Blue Hosta Lily - Hosta x tardiana (pictured right)
---
ROSES
---
Red Cascade Rose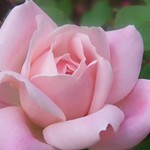 Red Drift Rose
Pink Drift Rose
Double Red Knock Out Rose
Georgia Peach Shrub Rose (pictured right)