Based on extensive experience in the field and in the Wilson Bros Nursery Trial Gardens since 1982, Wilson Bros Nursery & Wilson Bros Landscape has compiled a list of the best of the best "must have" annual plants (bedding plants) for Georgia landscapes and gardens.
The Wilson Bros Top Annual Plant Selections were chosen based on the following attributes and criteria:
Easy to grow: high survivability rate
Easy to care for: Low maintenance
Aesthetical value provided
And, last but not least: Availability!
NOTE: When at the nursery, just look for the gold Wilson Bros Top Selection signs - they're easy to see!
Make sure to add these annual plants to your Gardenality Gardens!
---
Warm Season Annuals (Spring & Summer)
---
SUN or MOSTLY SUN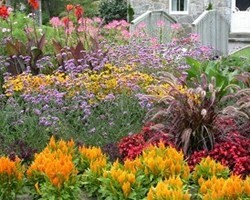 Angelonia - Summer Snapdragon
Argyranthemum - Marguerite Daisy
Begonias (All varieties!)
Bacopa
Celosia - Cockscomb
Cordyline
Cuphea (All varieties)
Dracaena Spike Plant
Dusty Miller
Euphorbia 'Diamond Frost
Evolvulus - Blue Daze
Fanflower - Scaevola
Geranium - Zonal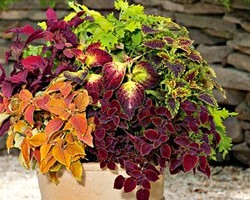 Geranium - Scented
Gerbera Daisy
Gomphrena
Iresine
Joseph Coat - Alternanthera (All varieties)
Lantana (All varieties!)
Licorice Plant - Helichrysum
Marigolds - African Series
Million Bells - Calibrachoa
Mona Lavender - Plectranthus
Pentas
Persian Shield
Petunia (Spreading types)

Yubi Portulaca - Purslane
Purple Fountain Grass
Salvia
Sanvitalia
Setcreasea Purple Hearts
Sun Coleus
Sweet Potato Vine (All varieties) - Ipomea
Verbena / Containers, Garden Beds
Vinca - Annual Periwinkle
Zinnia ('Profusion Series', Star Series)
SHADE or PART SHADE (AM SUN)
Begonias (All varieties!)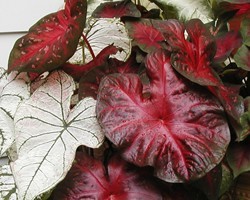 Caladiums
Coleus 'Wizard Series'
Hypoestes
*New Guinea Impatiens (New Guniea and Sunpatiens ONLY! Other varieties are susceptible to a virus)
Sun Coleus
Torenia
Ferns (Boston, Macho, Kimberly Queen)
NOTE: Common Impatiens walleriana are not on our list. Due to a virus these should not be planted until further notice.
---
COOL SEASON ANNUALS (Winter)
---
Flowering Cabbage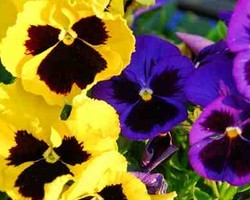 Flowering Kale
Pansies - Matrix Series
Snapdragons
Violas - Dwarf Pansies
---
TROPICALS
---