---
Bermudagrass will grow in USDA Plant Hardiness Zones 8-11.
Because of its dark green color, drought tolerance, and high tolerance to foot traffic, Bermudagrass has become one of the most popular choices for sunny southern lawns. Bermudagrass creeps along the ground and roots wherever a node touches the ground, forming a dense mat. It also reproduces from roots under the ground. In drought situations the root system can grow quite deep, making it one of the most drought tolerant lawn grasses. In typical situations, most of the root mass lies 24 inches under the surface. It's blabes are dark blue-green in color and are short, usualolt 1 to 4 inches long.
Bermudagrass grows best in well-drained, sandy to sandy clay soils that will crumble when squeezed in your hand. It prefers full sun, and will not tolerate much shade. Irrigation is not necessary but will enhance performance and appearance during summer dry spells.
---
SOD DIRECT offers the following types of Bermudagrass sod:
---
Tifway 419 is a very dense and fine textured hybrid Bermudagrass. It is low growing and spreads rapidly. It's density, fine texture and soft blades provide a soft cushion in which to walk and play. Although not required, for those willing to devote extra time in maintenance, Tifway 419 will provide an extremely high quality turfgrass. Tifway 419 is recommended for residential and commercial landscapes, golf courses, parks and athletic fields. TifWay 419 requires full sunlight most of day and should not be used in shady areas. Heat tolerance is excellent but not quite as cold tolerant as other turf type Bermuda grasses. It also has a slightly slower green-up in spring than other turf type Bermudas. TifWay will tolerate sustained periods of drought once established, however, responds well to irrigation during dry conditions if higher quality turf grass is desired. Very good wear resistance and will withstand heavy traffic.
---
TifSport is new Bermudagrass superior to Tifway and far superior to the common Bermudas now posing as Tifway in many areas. Excellent for use on athletic fields and golf courses, as well as high end landscapes and lawns. A grass with superior color, cold-hardiness and disease resistanance. Excellent turf density, turf strength and turf quality. If you're looking for a certified Bermudagrass that can stand up to the stress and demands of big-time sports, to the wear and tear of football and soccer cleats, to the punishment of baseball spikes, relax, you've found it - TifSport. It's what many experts are calling the new standard in sports turf for the 21st century.
---
Patriot Bermuda is an excellent grass for any yard. It is a dense, high performance turfgrass. Patriot offers excellent cold hardiness compared to other hybrid Bermudas with overall high turf quality. Patriot is well suited for areas rerquiring high quality turf grass, such as: golf course tees and fairways, atheletic fields, home lawns, commercial landscapes and parks and playgrounds. Its appearance and quality is on par with the best commercial varieties such as Tifway 419, Tifsport, and Tifgreen. However; Patriot ranks higher in areas of vigorous growth, wear tolerance, rapid divot recovery, early spring greenup, and freeze tolerance.
---
Contact Sod Direct the following ways:
---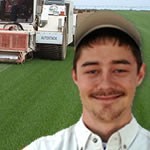 Kyle Henson
Sales Manager
By Phone: 770-639-6389
By Fax: 770-914-9746
By Mail: 1759 McGarity Road - McDonough, GA 30252
By Email: kyle.soddirect@gmail.com
Or, fill out the form below: